We begin with a fantasy.
An unknown narrator (not Doug, but the narrator addresses Doug for failing to adequately act out his narration) tells us of a magic pen stuck in a stone.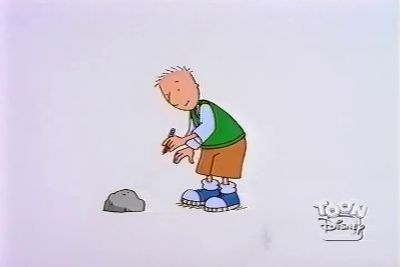 Doug walks into the great void and King Arthur's the pen and then draws all of reality with it.
This fountain is the first thing I'd draw if I was made God too. And so what is the God King Arthur Doug to do with his new magic pen? Well, Patti's bicycle tire just popped, so he erases the flat and draws it back, good as new.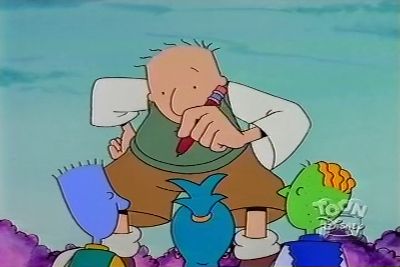 Beebe wants a new nose, so he draws her one. Skeeter wants an ice cream cone, so he draws one that reaches high into the sky. Roger just wants to buy the pen, and instead of just drawing another magic pen and giving that to him, Doug refuses.
As it turns out, being God isn't all it's cracked up to be. Beebe is upset after seeing her new nose in a hand mirror and Skeeter's impractical ice cream cone had only one logical conclusion.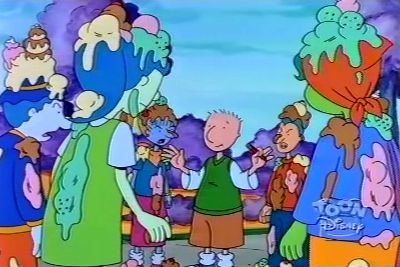 The fantasy ends with the narrator trying to wrap it up positively, saying Doug learned his lesson, but the ice cream covered crowd tells him to can it while they advance on their shrunken God King Arthur Doug.
So, all of this is somehow about the student council elections. Roger is running for class treasurer. Ever the ethicist, Roger is offering free Red-Hot Spankeroos to anyone that will vote for him.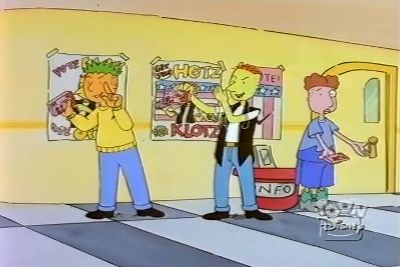 If they turn down the Red-Hot Spankeroos, he offers them cash. One kid says his mom won't let him eat candy, so Roger gives him five dollars. I imagine his mom wouldn't let him sell his vote either, but maybe she didn't realize she'd need to teach him about that while he was still in middle school.
Beebe is also running for class treasurer.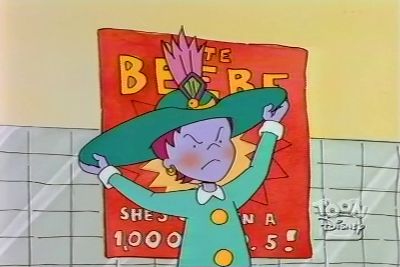 Unlike Roger, she's just concerned with the message her clothes portray. She's not in the halls, convincing people she'd be better than Roger. She's trying out different clothes and yelling at the unfortunate adults her father has presumably paid to help her find an outfit that says she's a tough leader.
Finally, Chalky is running unopposed for class president. I don't know why he's bothering with posters and this stupid trick to prove his ability to multitask.
Maybe their ballot will have an option to not have a president just to make sure Chalky, already busy with all his teams and clubs and bullshit, will have to entertain them in the halls to get the job no one else wants.
Anyway, Doug proudly points out they all need him because he's the one drawing all their campaign posters. Chalky hands him these posters and tells him to hang them in the gym and library.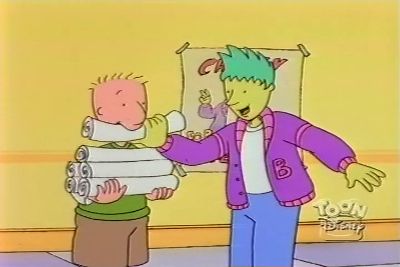 Fuck Chalky, right here.
"Here, Chalky! I finished six more posters for you!"
"Wow, thanks Doug! I'm going to go impress people with a basketball, a soccer ball, and a football."
"Cool, Chalky! Well, I've got things to do."
"Here, hang this shit up!"
"Oh, but, I thought, you know...you could do it? Because like, I just spent hours drawing them for you. For free. And I don't even know why because no one is even running against you. No one is going to look at the ballot and see you're the only choice and say, 'WHO THE FUCK IS CHALKY!? Well, I'm not voting for some asshole I've never even heard of. Fuck him.' This was already a massive waste of my time. You want to continue this pointless charade, go right ahead. I'm done with you."
But no, that doesn't happen. Instead, Beebe approaches Doug with even more demands.
She wants him to draw that stupid hat on all her campaign posters. Before Doug can even shit his pants in protest of this extra pointless endeavor, Roger approaches and demands 500 more posters.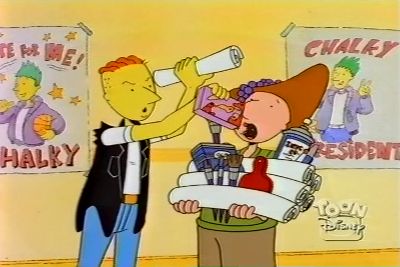 "Here! Have some Spankeroos!"
So, Doug's just standing in the hall when this adult stops and starts asking him questions.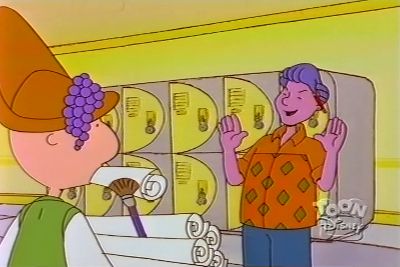 He introduces himself as Guy Graham and basically he's the teacher-editor for the school newspaper and they need a cartoonist. He says, "the school newspaper needs a cartoonist with edge! A guy that knows the pen is funnier than the sword! A real leader's leader!"
And so another fantasy...
Doug Wallace holds back his army as the enemy army approaches. When they get close, he hastily pulls out a pen and paper and cartoons the shit out of the other army. The other army starts laughing and the battle is over.
Doug immediately suffers from writer's block. He can't think of a good, edgy cartoon. "Ideas don't just fall out of the sky and say hello."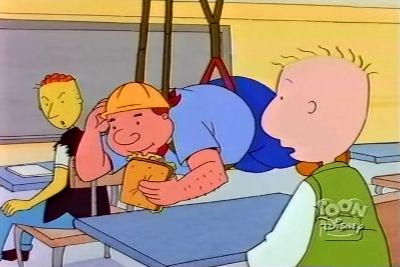 "Hello!"
Here's a thing I forgot about. Their school isn't finished. There's loads of problems and basically, it is an uninhabitable death trap. After this sandwich wielding construction worker falls out of the ceiling, his co-worker informs Doug, "we're working on it." This will become a running gag.
In art class, Doug skips his assignment to work on his cartoon for the newspaper.
Skeeter finishes his hyper photo-realistic painting.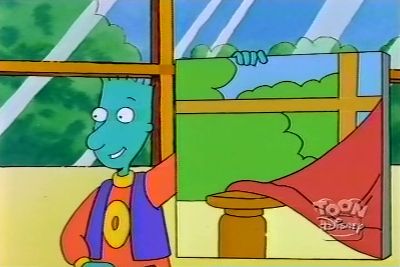 And he asks Doug how his work is coming...
Skeeter's not worried about Doug's writer's block. He says, "don't give up, man. You're a great cartoonist! Any second now, an idea will hit you right in the head."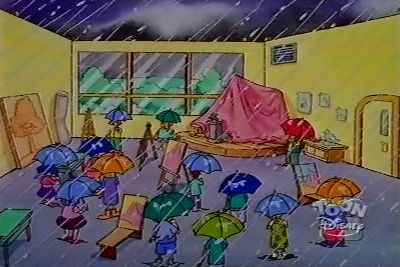 The construction workers arrive, saying, "we're too busy to work on this," before handing out umbrellas. And Doug finally has an idea. I bet you can guess what it is.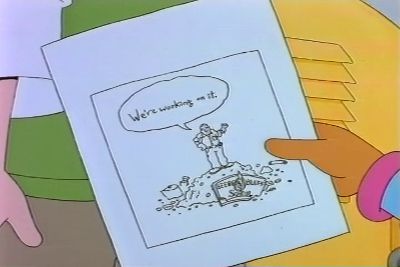 On the way to his newspaper meeting, he shows Patti the cartoon. She laughs and says it's great. She tries to tell him something, but he interrupts her to point out the meaning of his brilliant cartoon. I guess he thought she didn't get it and she laughed to cover up how much she didn't understand it, or he just really wanted to reinforce what a brilliant cartoonist he is.
More interesting than Doug's obvious cartoon, Patti finally gets to tell him that her dad is the new history teacher at the school, so she's no longer going to be home schooled. On top of that, she has something to show him. She hands him one of the rolled up posters under her arm.
Mr. Graham asks Larry to write up a story about Patti running for president and he declines, saying he already has too much to do. Mr. Graham promptly sticks his fingers in his ears, says, "I can't hear you," and does that whole "la la la la" thing like a child.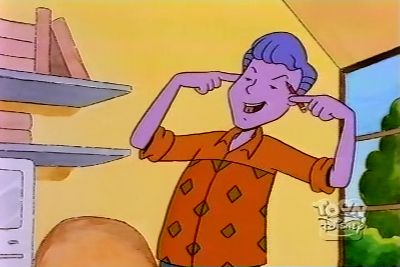 Just like the editors at *Your Least Favorite News Source*.
Mr. Graham introduces Doug, then asks the girl in the picture below, "what's new, Sal?" She says she's reviewing the school play and loved it. He asks what play. She says they haven't decided yet. He is thrilled with this psychic angle. I suppose the drama department will be thrilled to know the pressure's off.
Finally, Doug gets to show off his cartoon. Mr. Graham laughs. The newspaper staff laughs. Mr. Graham says, "it's funny and to the point. But it doesn't quite uh, what's the word I'm looking for? Oh yeah, bounce!"
The newspaper staff agrees that it doesn't bounce. Mr. Graham suggests a few changes to use the power of the press to tell the kids who to vote for. He changes the character to Beebe along with a few other edits, and hands the cartoon back to Doug.
Apparently this has bounce, and the newspaper staff agrees that there is sufficient bounce. Doug is understandably confused. He asks, "you want me to do it about Beebe?"
"Hey! Whoever you want! You're the leader! The captain of comedy! The pharaoh of funny! The sultan of swat! No, that's Babe Ruth. I'm outta here!"
News of Doug's newfound power spreads quick. Roger grabs his books and Doug thinks he's just being a jerk.
Really, Roger's just offering to carry them so Doug will make a cartoon endorsement in his favor. Roger goes on to describe what the school will be like if Beebe is treasurer. Basically it's one of those shitty night clubs with a control freak bouncer that of course wouldn't let Doug in.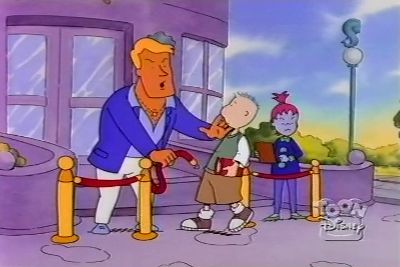 Roger comes along and says, "you can't deny kids their education based on what they wear!" So Beebe lets him in and the weird sort-of-fantasy ends. Roger offers Doug a check for an unspecified amount. Doug asks, "you're giving me a check?" somewhat incredulously, but Roger takes it to mean that it can be traced and he tears up the check and walks away promising to play Doug's game.
Next up, Beebe! She does the same thing Roger did, describing what school would be like if the opponent won.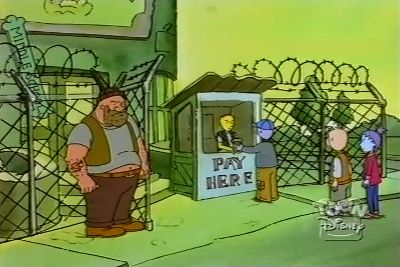 They are obviously greatly overestimating the power they might obtain in the student council. In this one, Roger is just demanding that people pay to go to school. Beebe saves the day and pays for everyone. After the fantasy, she offers to double whatever Roger is willing to pay for his cartoon endorsement.
The next day, Doug finds a decent surprise in his locker.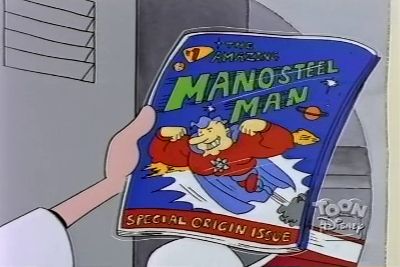 This one is from Roger. Beebe takes care of his lunch, however, to swing his favor back the other way.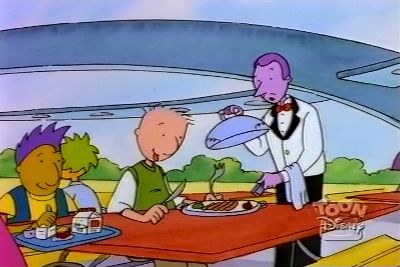 The waiter calls it "sauteed weenies flamb
é," which is of course just hot dogs set on fire. There's some ketchup. It's a pretty shitty bribe, but know your audience, I suppose. Doug loves it. If Beebe gave me that shit, Roger just won the competition.

After school, Roger's limousine is waiting for Doug.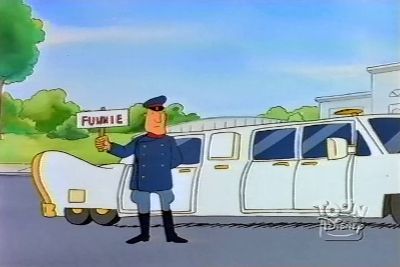 But Beebe is there to whisk him away and give him a makeover. He first tries on some clothes she doesn't like. Then she likes this...
And he settles on something else entirely. Roger takes him straight from this place to Bluffco Motors across the street.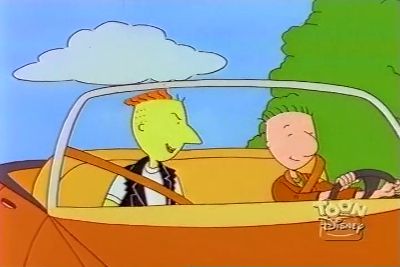 "So whatta you say, Funnie? I get the cartoon; you get the convertible!"
"Doesn't this thing go any faster?"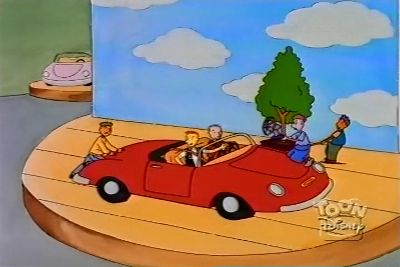 This is the most ridiculous. I guess it could be worse if they were actually driving the car, but how is this supposed to convince Doug? It's a car he couldn't afford the insurance on even if he was old enough to drive it, so instead he'll just sit in park while Roger's friends shake the car and make car noises and drag plants past him so it simulates movement. This could only work on Doug. No one else would be able to sit still and immerse themselves in the fantasy enough. To anyone else, this is more of a hassle than a bribe. That said, at least a car is more practical than a Fabergé eggs...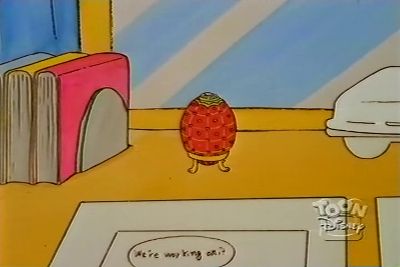 Or a dozen Fabergé eggs...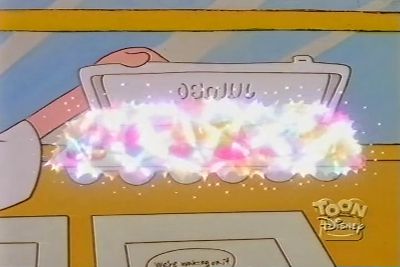 Roger gave him one, so Beebe gave him a dozen. Considering the amount of money they are apparently spending to bribe one person, neither one of them should be class treasurer.
So the next day, Doug calls Mr. Graham to inform him of his inability to make a decision. Mr. Graham isn't worried. "Your deadline isn't until tomorrow, Doug. Besides, a good leader doesn't decide until he has to."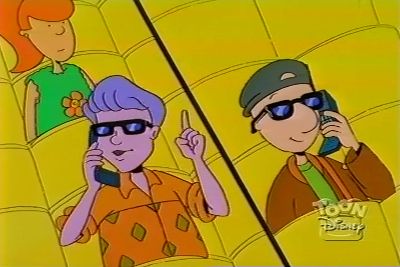 I didn't feel like it was necessary to include the screen shot that revealed the fact that Doug called Mr. Graham while sitting right next to him. They're actually sitting at an assembly for all the candidates to give a speech. Chalky is droning on and on about what a great leader he is because he's the captain of this team or that club or whatever. It makes Doug wonder what Chalky could offer him for a favorable cartoon. He has a fantasy where he has tickets to the Super Duper Bowl. The announcers have to sit on top of some of the stadium lights, but Doug?
Doug gets to relax on the field.
After Chalky wraps up his speech about what a great leader he is, Patti finally gets a turn. She starts to say something about everyone working together to figure out who is responsible for their school's problems when the lights cut out and the construction workers say, "we're working on it."
At home, Doug finally sits down to make a decision. Is he going to go with Roger and the car?
Is he going to go with Beebe's promise to double anything Roger offers, which I guess would mean two cars?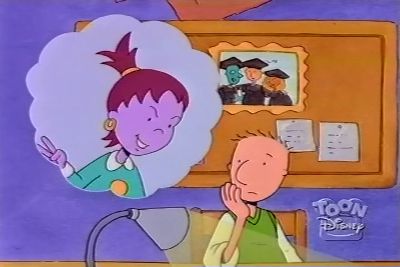 Is he going to go with Chalky's amazing Super Duper Bowl seat, which is a thing he imagined entirely on his own and was never actually a bribe offered by Chalky?
Doug leans back and knocks a picture off the wall. It lands on his head and makes him realize the obvious choice.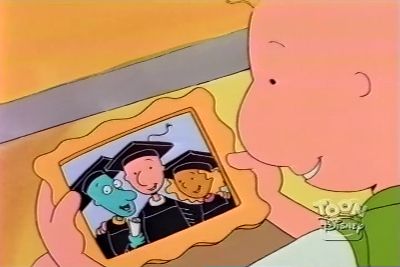 Doug just can't get an idea unless it hits him on the head. Obviously, Patti is the one he really wants to impress. She didn't offer him anything for his endorsement, but why should that stop him from imagining what he'll get out of it?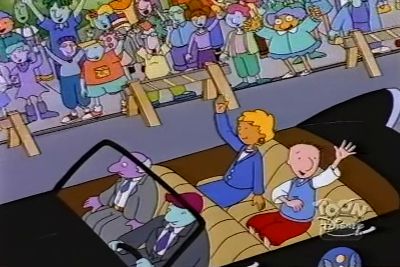 Luckily, this is the ride to her inauguration and not a trip through Dallas. Patti expresses gratitude for his great effort to get her elected and asks how she could ever repay him. He says, "oh, I'm sure you'll think of something," then looks at the Lincoln Memorial. It changes.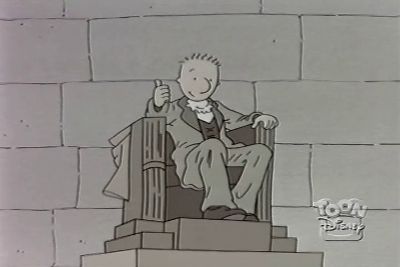 The next day, Mr. Graham is pleased.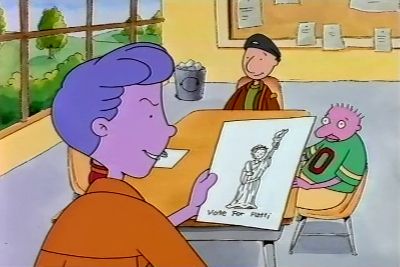 Roger is confused because "but...I look like Patti!" Beebe is pissed that Doug did a cartoon about Patti "after all the clothes? The dinners? Barbados
‽
"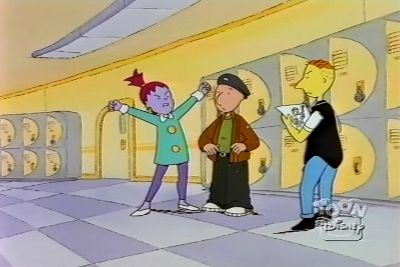 I'm not quite sure what she means about Barbados. Did she take Doug to Barbados and Doug just didn't bother to include that in his journal? Anyway, Beebe takes the jacket and hat and Roger says he'll pick up the convertible later.
Finally, Doug finds Patti and shows her the cartoon.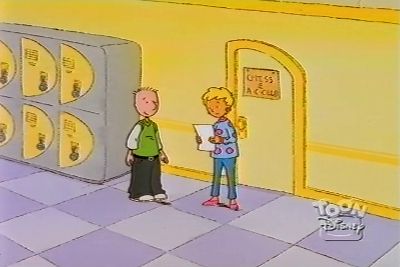 Before she can even react, we see Doug's fantasy of her reaction. So, what's a creeper who's turned down a car, some clothes, and Barbados want in exchange for this ringing endorsement?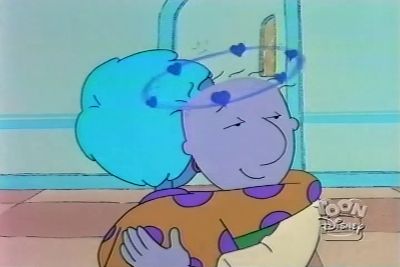 Just a hug. It is a cartoon for kids, after all...
Anyway, she likes the cartoon, but thinks his first cartoon was better. That one made her think a lot about the school's problems, which she then made her main issue. She asks if they can talk about it later because she's late for a speech.
She gives an inspiring speech to three nerds and Doug. The Chess/A.V. Club want to know what she will offer them in exchange for their support. Roger offered them new wizards and dragons chess sets among other things more expensive than that. These fucking nerds are useless. Patti is running for president. Roger is running for treasurer. If he offered you those things, then by all means vote for him over Beebe. Patti is running against Chalky, so after you check the box next to Roger Klotz, check the box next to Patti Mayonnaise.
Instead of pointing this out, Patti says the election shouldn't be about what they could give each other. That's not good leadership. Good leadership is about doing what's best for everyone. She promises to do what's best for everyone, and also encourage more girl membership in the Chess/A.V. Club. They are pleased, but Doug is somewhat embarrassed by his terrible leadership.
Doug rushes back to the newspaper room and tells Mr. Graham to stop the presses. He wants to change his cartoon because he submitted the Patti endorsement for the wrong reasons. Mr. Graham apologizes and says the paper goes to press at noon. Doug looks at the clock as it strikes noon, and dashes from the room to go to wherever they're printing the damn thing.
He runs down the hall, through the gym, down another hall (jumping over a construction worker), through the cafeteria, and into the Print Shop where he repeatedly yells, "STOP THE PRESSES!"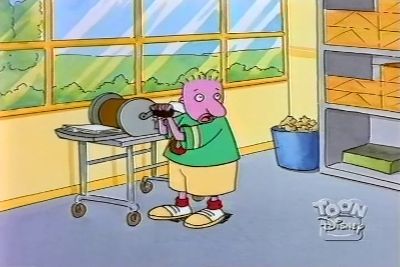 Larry asks him to say, "please." Then he points out that Doug should have said, "stop the mimeograph machine," because Larry is apparently a fucking pedant. Finally, he stops cranking the mimeograph machine and Mr. Graham and Sal hear it from the other room Doug just ran from.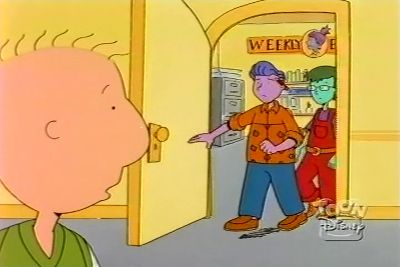 Yeah, Doug ran all around the school to get to the next room over that was connected by a fucking door. Idiot.
Guy asks why Doug stopped the presses. Doug explains, "it shouldn't be up to a cartoon to decide who gets elected. It should be up to the students."
Guy Graham: "Hmmm...hey, whatever you say! You're the funny guy. I just work around here."
Larry: "Guy, if we change it, we can't have it out before the election."
Guy Graham: "Well if we can't pick who wins, what's the point?"
Doug: "Why don't we tell people who won?"
Guy Graham: "Brilliant! Love it! Print it!"
Larry: "Well that means working all weekend..."
Guy Graham: "Don't you think it's worth it?"
Larry: "Well...yeah..."
Guy Graham: "Great! See ya Monday! You know where to reach me!"
Larry: "But I don't know where to reach him."
Larry and Guy Graham should star in a movie together. They deserve each other.
Patti wins.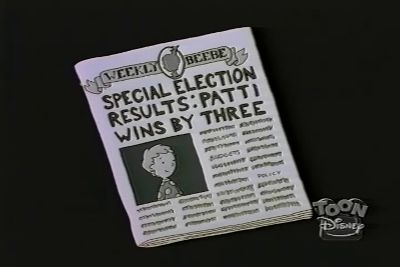 The Chess/A.V. Club gladly takes credit because she won by three votes. It's good she convinced them not to vote for Roger for president or the election would have been a tie.
Patti's first decision as President is to make Chalky the Vice President. If she ever gets assassinated, he'll finally have the power he doesn't get from being captain or president of all the teams and clubs in the school. Beebe beat Roger too, of course.
I say, "of course," as if there's any reason at all to vote for either of them over the other. They're both useless and their classmates would be better off without a treasurer. Beebe immediately spent the student council budget on the new school mascot costume.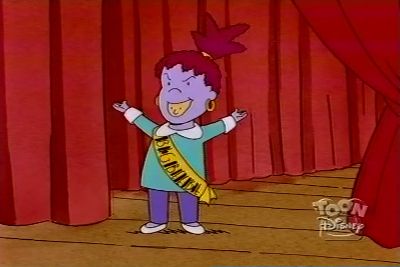 The Big Beebe will be the most popular Halloween costume this year.
In the end, they ran the first cartoon Doug drew. One of the construction workers reads it and laughs so much he starts stomping his foot, which makes the floor collapse below him. He laughs, looks around and says, "hey! I'm workin' on it!" The school is so poorly constructed, even a seemingly finished floor can collapse under minor stress. Beebe's father is a shitty person. He clearly hired the worst crew to use to cheapest supplies. Fuck him.
And fuck Guy Graham too. For obvious reasons.
Now we can all sit back and hope that the lesson Doug learned about power and leadership and not taking bribes really sticks before he ever comes into real power where the acceptance of bribes would actually be a crime.