This episode starts with a fantasy. Doug says that Bluffington School has declared war and the commander in chief's first order was to punish the school traitor. Of course that means Roger is punishing Doug. He's facing a firing squad.
I can't wait to see how Doug ended up facing death for being a traitor. Well, not death. Paint. The firing squad throws buckets of paint on him.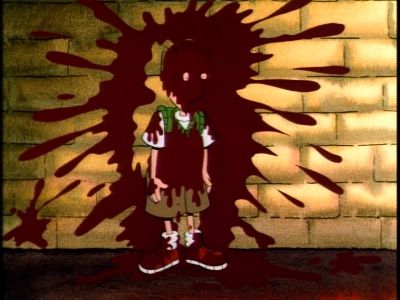 Shouldn't have been a traiter, Doug.
The Bluffington School is working on their float for the All County School Parade and they think they've finally made a float that will beat the Moody School in the float competition. The Bluffington School float features Mr. Beet.
Mr. Beet talks, and his arms move, and he can pull off the leaves on top of his head and spray juice everywhere.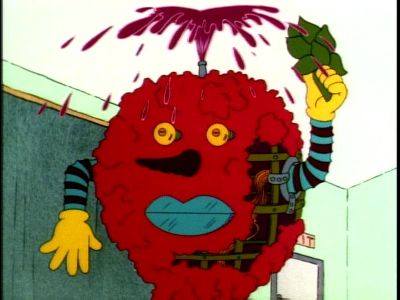 This is impressive, but also a little crazy. I don't know if Doug came up with the idea, but a giant talking beet that rips off part of its body to spray its juice out is a little too...I don't know. Suicidal? I guess it fits that a sentient beet would be suicidal in the face of the hopelessness it must feel when confronted with the reality of his beet brothers and sisters. If he can't save them from being in a salad, he can at least spray his blood on their murderers so they know the score. Anyway...
The beet juice fountain malfunctions and sprays uncontrollably. It's still impressive though. I mean...well done, Al and Moo.
On the morning before the parade, Skeeter and Doug are walking with open buckets of paint when some assholes bust through the gym doors, knocking them to the ground.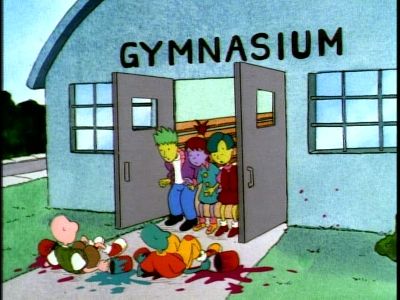 Who is going to clean that up?
They busted through the door because someone apparently stole Mr. Beet.
I don't know why that warrants such urgency at such an inopportune time. Were they waiting for Doug and Skeeter to get in front of the doors to make it more dramatic?
Roger comes out and immediately accuses Doug of knowing who did it because Judy goes to Moody School. And Moody School did it, so Doug must know they did it. Roger's not using a lot of logic here. He's pissed. WHATEVER! He rounds up a mob and some weapons.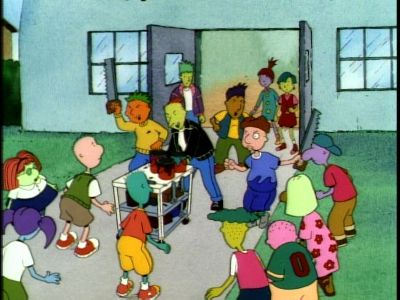 He whips them up into a frenzy and gets everyone to agree to go to Moody School to wreck their float. Doug points out that Judy couldn't have stolen Mr. Beet since she was home all night last night. That's when Roger calls him a traitor, based on the assumption that Doug told Judy about Mr. Beet. This angry mob just won't listen to reason.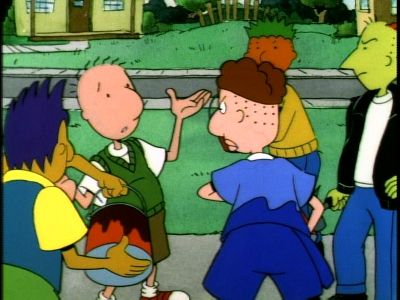 They're about to throw paint on Doug when he asks them how they're going to get into Moody School. A mob won't get past the front gate with all their weapons and shit. Doug volunteers to sneak in by himself to find out if they even have Mr. Beet. The mob assumes he will also help them wreck their float. Doug tries to tell them he'll call them and let them know if they actually stole Mr. Beet, but they cut him off and assume he will call them and tell them where their float is so they can quickly come in and help destroy it. Doug is such a brave hero.
So this is Moody School...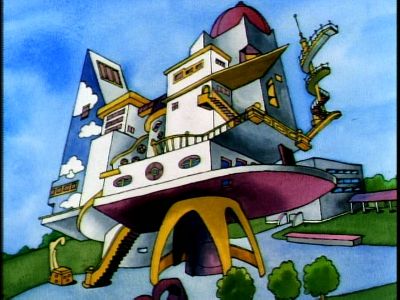 And Doug's disguise looks like this...
Skeeter says Doug looks like a clown. Porkchop is wearing that hat because he is helping Doug with this dangerous mission. The hat is his disguise.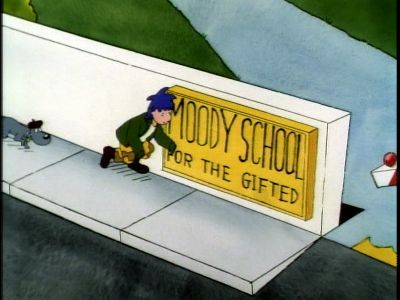 Doug crouches behind the fence so no one at the Moody School can see him and this transitions into a wonderful fantasy.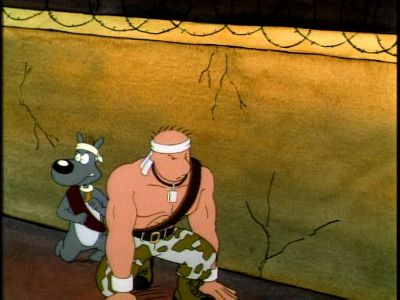 Rambodoug slides on his belly under the front gate and is spotted immediately by a guard in a tower. He might as well have blown an air horn. Even in his fantasy, he sucks at sneaking around. The guard calls in more guards and they start running at Doug so he rips the guard tower down with his bare hands. The tower falls on the guards rushing at him.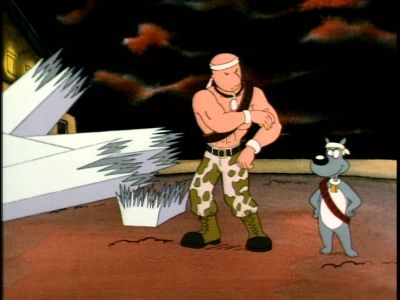 He brushes the dust off, ready to kill anyone that gets in his way.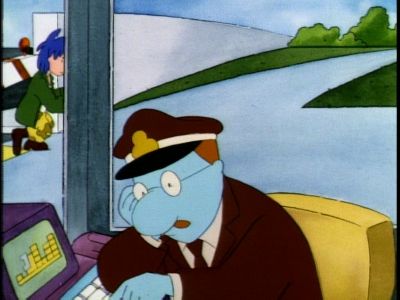 In reality, the guard at the gate is playing Tetris and hardly notices Doug and Porkchop. When he does notice them, he only tells Doug that pets aren't allowed on campus, after calling him a clown. This seems reasonable, and if that's the only objection the guard has, you might as well just go along with it. It's not like Doug really needs Porkchop anyway. He's just a dog.
Actually, they just run off and hide.
After the guard walks past them, Judy and her friends throw some garbage in on Doug and Porkchop. That Swiss cheese box is apparently a trash can. The world's shittiest trash can.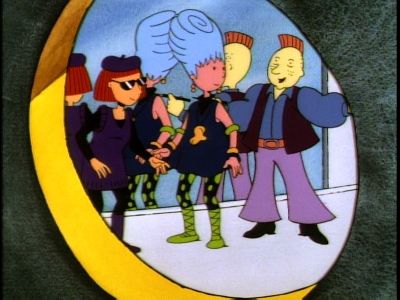 Doug overhears the Marge Simpson there say "yeah, Q's big new beet will totally change the way people in this town look at floats." He concludes that this means they did steal Mr. Beet. After they leave, Doug and Porkchop climb out of the trash and attempt to follow them to the art lab where the float is.
They fail miserably. Inside the school, they hear a door shut and assume that's the one Judy and her friends used so they run through it. The lights go out, a siren blares and a spotlight shines on Doug. Busted.
Then some asshole starts yelling "whoa" and "stop" and "kill the sound effects."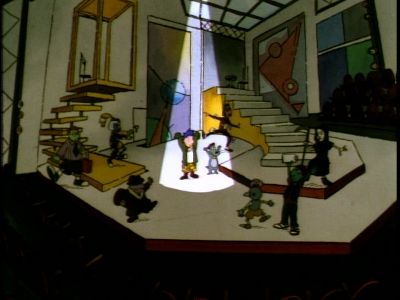 They just wandered into dress rehearsal for some weird bullshit play. The director is pissed because the clown isn't supposed to show up until act 3. Porkchop kindly asks Death for directions to the art lab.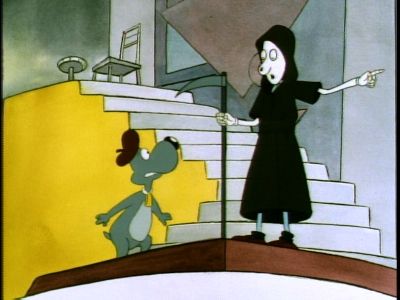 Doug never would've thought to just ask someone for a little help. No, his dog had to do it. As they are leaving, the director points out that Porkchop is a very gifted dog.
Outside the door to the art lab, Doug goes back into the fantasy. He's Rambo again, and now the door is steel and framed with razor wire. Doug rips the door off his hinges and throws it aside. He runs in and is caught by a muscular Judy almost immediately.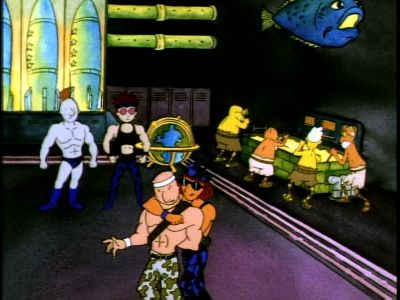 Just Pathetic. Judy takes him over to General Q who tells her to throw him in Mr. Beet with the others. They've also caught Al and Moo apparently, and they are slowly being lowered into Mr. Beet where I guess they are going to be boiled alive in beet juice.
In reality, Doug just walks through the door to the art lab to find more doors. The art lab is just another building full of rooms. They start to explore different rooms to find the one with the float in it and some of them are amazing. There's one with a guy floating, one with a guy using a guillotine to cut a car in half, one with a team of people painting with their bodies, and my favorite...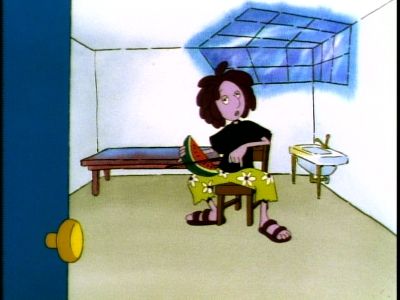 ...girl playing the watermelon. I don't know what to say about this school. If it wasn't "Moody School for the Gifted" I would not assume that kids were sent there because they were particularly intelligent. Maybe they were gifted with special needs.
Someone down the hall sees them and yells, "there he is! Stop! Stop!" So they run again. Doug immediately loses Porkchop and hides in a room. He looks back out into the hallway for Porkchop and then Judy angrily asks he what he's doing there. He accidentally found the right room and she's pissed he's wearing her clothes and wig.
Q then asks Judy to help them cover the float so they can take it to the parade. Doug asks to use the phone so he can call his friends to come retrieve Mr. Beet, because he's not listening to anything they're saying. As he's waiting for one of his friends to answer the phone, the Moody School kids start taking their float away. Not on Doug's watch!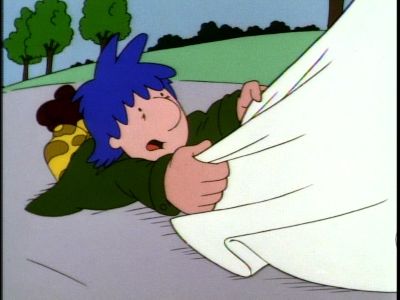 He's risking his life for a robotic beet fountain. He tells them to hand over Mr. Beet or suffer the consequences. Q is confused. Doug starts trying to pull the sheet off and Judy and Q finally start fighting back. They don't want it unveiled too early. They end up in a weird tug-o-war over the sheet as the other Moody Students continue to pull the float. I don't know why Judy and Q don't tell them to stop for a second while they deal with the shithead clown. Then Skeeter calmly says, "yo Doug! *honk honk* Watcha doin?"
Stunned, Doug lets go of the sheet and Judy and Q fall back ripping the sheet off their float.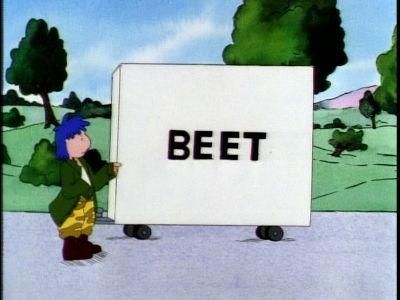 I want to know how Doug thought Mr. Beet was under that sheet. Apparently Doug can't tell the shape of something if it's covered with a sheet. That's probably some sort of weird, rare mental disorder, but I don't know. I know most people in that situation would see the Moody School float covered by a sheet and think, "oh, that's clearly just a rectangular prism, and clearly not a giant beet with arms." Not Doug.
Al and Moo just took Mr. Beet home to fix it after it malfunctioned and ruined the gym floor. Why didn't they tell anyone? They're Al and Moo. Doug asks them about the "Great Beet War" and wrecking Moody School's float and him being a traitor. Roger's goons shrug it off as a false alarm. Roger says, "I told ya I was joking, but NOOOOO, you wouldn't listen!"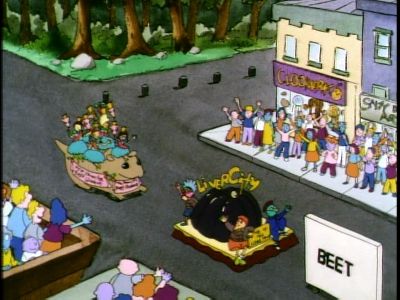 The parade goes on and Doug doesn't bother to mention who won the competition. I guess after all that it just didn't matter. Writing in his journal, he decides there must be a lesson in this. He writes down, "war is stupid." Then he asks, "right, Porkchop? Porkchop?" It cuts to Porkchop dancing around on stage in that bullshit play from earlier. That director really liked him.
Doug is all over this place in this one. His fantasies are hilarious. In both of his Rambo fantasies, he is discovered or caught immediately. Why didn't he imagine he was Smash Adams? Smash Adams is never so incompetent. Why did Porkchop go with him into Moody School? It's totally unnecessary. If he hadn't had Porkchop, the guard wouldn't have bothered him. He was playing Tetris and clearly doesn't give a shit about doing a good job. Because Porkchop was with him, he had to hide in a trash can. Again, why couldn't Doug tell Mr. Beet wasn't under the sheet just from the shape? He really did just get too immersed in this war fantasy.
In the end, Roger says he tried to tell Doug he was just joking, but when? You can assume Roger is lying, but maybe Doug is. As always, we're only seeing Doug's side of the story. It seems like maybe the other kids knew Al and Moo took Mr. Beet and just decided to play a joke on Doug and he just refused to accept the truth and got carried away into his own incompetent fantasy. In Doug's version, he could've called their bluff when they said they were going to wreck Moody School's float. Just let them go do it while he goes to the Honkerburger. He also could've just said he was going to Moody School and then gone to the Honkerburger. Let the angry mob sit and wait for nothing. Go tell an adult and let them handle it.