This episode begins in gym class. Everyone is outside in their gym uniform which includes brown shorts with red stripes and a t-shirt that says, "PHYS ED." Why do the shirts say phys ed on them? Because the school doesn't want the dumbass students confusing them with their mathematics, history, art and lunch uniform shirts, presumably.
Anyway, most of the students are doing jumping jacks. Roger's goons are throwing a football around and Doug and Skeeter are trying to kick field goals.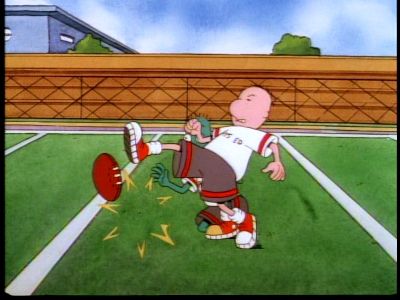 It's not going well. Doug's pathetic attempt sends the ball bouncing a few feet away. It's hard to believe he's this bad at kicking something, but I'm really no better. It's only gym class anyway. It doesn't matter. Doug is ready to give up but Skeeter keeps trying to convince him he's bound to get one sooner or later. "I can feel it! 57 is your lucky number!" Doug runs at the ball and kicks with his left foot and the ball and his shoe go flying. This is a little like when Patti realized Doug was left handed during the softball game and made him into a less shitty player, except this time it just appears to be a fluke. He
was
kicking with the wrong foot before, though.
While the ball and shoe are flying through the air, the gym teacher starts arguing with Patti. He's upset that she's saying she can't kick in tonight's game. Her leg is wrapped up and she's using crutches. He asks if she can use her other leg. She says her doctor told her to stay off her leg. The coach calls the doctor a quack. This is the first sign that this guy is unqualified to teach gym and coach football (in this episode), even at a middle school in a town full of idiots.
Doug's shoe hits him in the head and he looks up in time to see the ball go through the posts. Doug and Skeeter start celebrating and the coach stops them to inform Doug that he's the new field goal kicker.
Doug has a terrific fantasy about this. At a large stadium, an announcer informs us that there's four seconds left in the game and the Honkers are going with their star kicker Doug "The Toe" Funnie.
The coach lets us know that Doug "The Toe" Funnie will be attempting a 99 yard field goal. Patti is there as a cheerleader.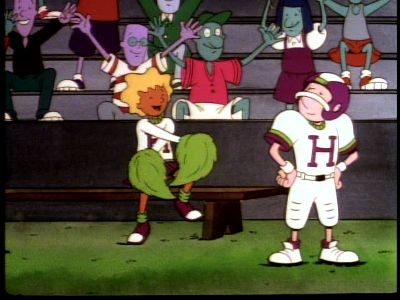 Doug is unaware or too sexist to care about the fact that he's only the kicker because Patti is injured. This happens.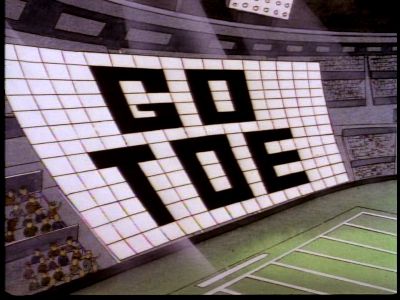 4 people identifying themselves as the Doug Funnie Fanclub sing and dance and spell out "Doug" with their bodies. Then Doug makes the kick. A player on the opposing team grabs the ball in an attempt to block it, but he's just carried with it.
Out into space. Why wouldn't he let go, Doug? Why?
After the fantasy, Doug is staring off into space when Skeeter brings him his shoe. Doug points out that Coach Spitz wants him to kick in the big game and Skeeter says, "I heard, man. What are you going to tell him?" Doug starts to explain how much it could mean for him, but Skeeter cuts him off pointing out that he can't kick field goals. After 56 spectacular failures, Doug kicks one good one and forgets everything else. I guess you could just call him overly optimistic.
After Skeeter reminds him of reality, Doug starts to despair. He doesn't know what to do and starts to worry he'll become the laughing stock of the whole school. Before we get to see a fantasy of that, Skeeter just tells him to tell Coach Spitz he can't kick in the game. Damn Skeeter.
Coach Spitz asks, "what do you mean you can't kick?" Then he crushes the tomato he's holding.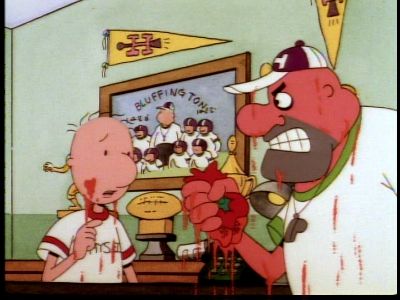 Doug tries to explain the kick earlier was just a fluke, but Coach Spitz cuts him off to explain why he just crushed that tomato. He calls it mental preparation. He always squeezes the guts out of vegetables before the big game. He gives Doug a tomato and tells him to squeeze. Doug doesn't squeeze the tomato so hard that it explodes all over himself and Coach Spitz, but the tomato guts do squish out onto the floor. That's not enough for Coach Spitz. He makes Doug get up on his desk.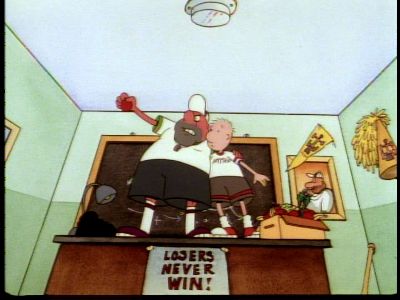 He asks Doug how this makes him feel and Doug replies, "stupid." Coach Spitz says, "NO! TALL!" Up on the desk, he's tall and has no fears. He explains that football is a 90% mental game. He makes Doug squeeze another tomato and tells him the game is at 6:00.
So Doug and Skeeter get back to practicing. This only makes Doug realize that one good kick was just an accident. This is seriously one of Doug's attempts.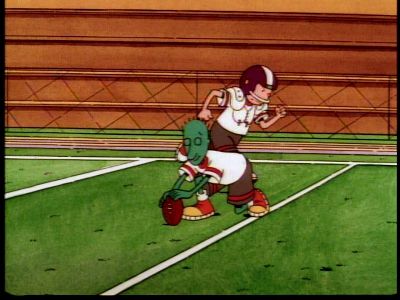 There might be something wrong with Doug's vision. Skeeter tries to help by drawing a bullseye on the ball, because clearly Doug just doesn't understand that the ball is the target. After another attempt, in which Doug trips over nothing and face-plants into the ball, he decides he needs some help. Good old fashioned library help.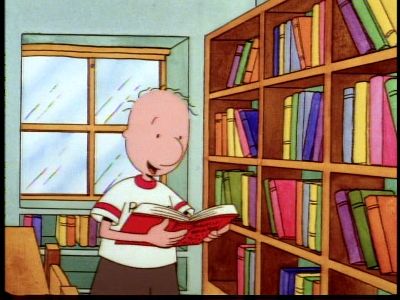 He's found the perfect book. It is Stenblatters Quick Guide to Perfect Field Goals. The book tells him that he only needs to follow 27 easy-to-remember steps to kick the perfect field goal. Here's step one.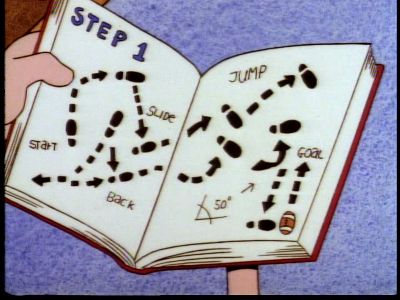 Useless shit.
At the game, Coach Spitz tells the team to grab fruits and listen up. He says the Honkers have never scored a point against Bloatsburg. They're bigger, better and braver than the Honkers. But today, the Honkers have a new kicker and he has a golden toe. The kicker with the golden toe is just reading a book on the bench, so the coach's reveal of the secret weapon is underwhelming.
The Bloatsburg coach yells at them and reveals his secret weapon, as if he needs one against a team that's never scored a point against his team. His secret weapon is Percy Femur. Percy busts out of his trailer and scares the Honkers who thought he was still in reform school. The Bloatsburg coach (Barney) yells at Percy to tie his shoe. One of his shoes was untied.
Patti shows up just before the game starts and distracts Doug from his studying to say she's cheering for him. The Honkers won the toss and chose to receive first. Their receiver catches the ball and starts running until he just runs straight into Percy Femur. He made no attempt to dodge the middle school giant. The collision causes him to drop the ball as he falls down. Percy picks it up and runs it in for a touchdown. The Honkers are off to a great start.
To celebrate, Percy crushes the football. Coach Barney yells at him again about his shoelaces. As strong as he is, Percy apparently can't tie a tight knot on his shoelaces. It's a problem.
Coach Spitz rolls out a pretty badass touchscreen computer (extremely badass by 1994 standards) to show the team the next play. It's a shitty play that he explains poorly, and he quickly gives up saying, "Oh, who am I kidding? Chalky, get in there and make up your own play." This guy just sucks so thoroughly.
Chalky's play is quite amazing. He throws the ball to himself. Unfortunately, he just assumes that would be enough.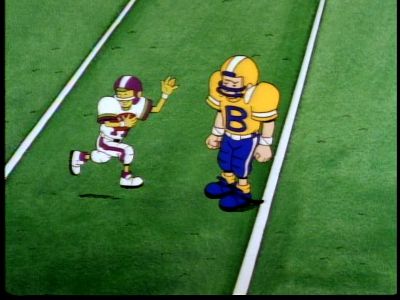 Not even looking where he's going, he runs straight into Percy. It doesn't matter though. They are now close enough for a field goal and Coach Spitz wants to take advantage of that golden toe! Doug points out that it's only first down and asks if they should run a few plays first, but Coach Spitz says that's just what they're expecting. If you were wondering why the Honkers have never scored against Bloatsburg, well...
Doug goes out there and kicks and again his shoe flies off. Percy isn't the only one with shoe problems. The shoe flies through the posts, but the ball falls far short. Mr. Bone (who for some reason is the referee) says that a shoe doesn't count. I'm surprised Coach Spitz doesn't argue with him about this, but he can only be so ignorant about the rules of the game, I suppose. Coach Spitz is just pissed and tells Doug to get off the field.
So now Doug is just totally benched and has to watch as Percy Femur single-handedly destroys the Honkers. Doug says he scored 35 points in the third quarter alone. He also points out that Coach Spitz is having a hard time keeping enough players on the field.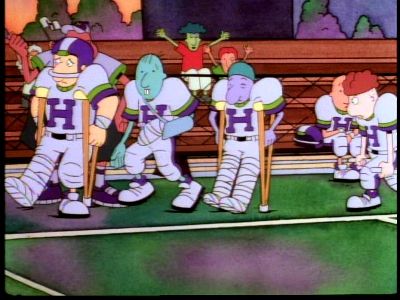 They're all getting injured by Percy. Towards the end of the game, Chalky points out that they're a man short, and before Coach Spitz goes over to Mr. Bone to forfeit, Doug volunteers to go in. Why bother? You should've forfeited once you realized it was an American football game, and not a game of badminton or whatever stupid thing you thought you were preparing for by crushing fruits and vegetables.
So Doug goes in there and Bloatburg throws the ball to Percy, of course. Doug grabs onto Percy and is dragged across most of the field. Doug notices Percy's shoelaces have again become untied and politely informs the simple giant. Percy promptly stops and drops the ball on the ground while he ties his shoes. Since this is technically a fumble, Doug picks up the ball and starts running the other way.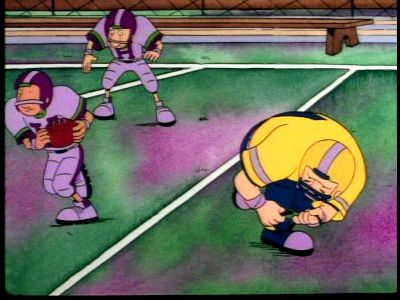 Unfortunately, absolutely no one is blocking for him, and he is quickly coming up against all the other Bloatsburg players. Before they tackle him, he laterals the ball to Chalky who runs it in for a touchdown. The Honkers have finally scored against Bloatsburg! They still lost 57-6, but that doesn't matter! They scored! Doug is the master of flukes! Doug and Chalky are carried off the field.
Coach Spitz needs to be fired. He's just terrible. Just a terribly incompetent coach.
Doug's not too crazy in this episode. Just stupid and lucky. I don't know why he thought he'd learn how to kick just by reading a book he didn't understand. His fantasy is quite interesting. It seems like he's more likely to have fantasies where everything goes wrong and everyone hates him for it when he has no reason to expect such an outcome. When finally faced with a situation where he has no chance of success, and everyone potentially hating him for it, he has delusions of grandeur...at least for that minute before Skeeter reminded him he sucks.