Doug and Skeeter are bored. They're tossing a football around, and neither of them can think of anything to do. A commercial quickly grabs their attention, because it almost isn't even an episode of Doug unless something on television triggers the plot.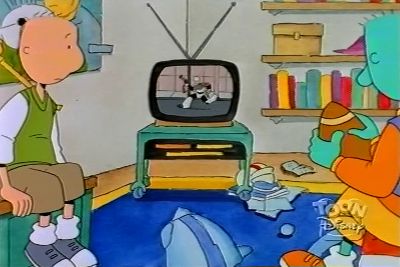 This time it's a commercial for a new movie called Targetman. Targetman looks like a shitty mess. Targetman's catch phrase is "dead on." The commercial says it has the highest body count in movie history. There's a scene where Targetman shoots a few buildings in half to apparently make them collapse onto his enemies. The whole commercial is explosions, guns firing, motorcycles and robots and...it's just looks like a shitty mess. Naturally, Doug and Skeeter can't wait to see it.
So, this episode is weird. I'm going to blame Doug's unreliable narration for the weirdness. The commercial specifically mentions that Targetman is coming soon. Throughout, as you'll see, some people talk about Targetman as if they can't wait until it comes out, while others talk about it as if they've already seen it.
The day after seeing the commercial, Doug is walking to school and says, "for some reason, I couldn't stop thinking about Targetman." On his way, he is overwhelmed with advertising for the movie. There's ads on buses, billboards, a blimp shaped like a gun, and this man selling bullet hole donuts in a really quite shitty Targetman costume.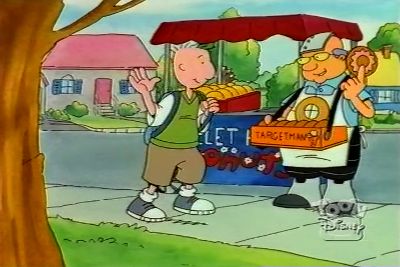 At school, Doug and Skeeter are the only people dressed in their normal clothes. Everyone else is wearing Targetman shit. Connie says it's the greatest movie ever because the star is such a hunk.
Get it, Connie.
Skunky says, "no, man. It's because Targetman is the dude with 'tude."
Roger says, "it's the coolest because Inside Entertainment said it had the highest weekend grosses all month!"
Beebe says, "no, it's because tickets cost twice as much as any movie ever!"
Doug ends this exceedingly dumb argument by saying, "I can't wait to see it because Targetman is dead on!" Everyone joins him when he says "dead on" and it's like a moment between them. They'll remember it forever, especially Skunky. It's all downhill from here for him.
And this is where the episode really starts the weirdness. Skeeter asks the group if they heard about the best scene in the movie. He begins, "Targetman, a really good looking fellow, is trapped in a burning building by about a gillion bad guys."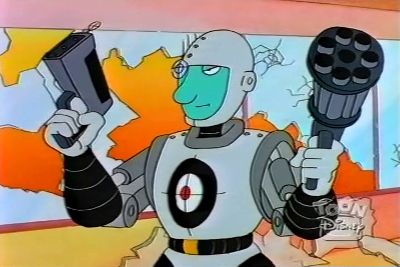 What happens in the scene isn't important. Some things explode. Some shots are fired. Things happen and if this is the best scene in the movie, the movie is incomprehensible garbage. What's important here is that Skeeter is Targetman in this scene. Why?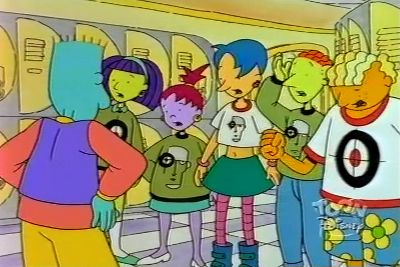 After Skeeter's description of the scene, everyone says in unison, "wow, dead on!"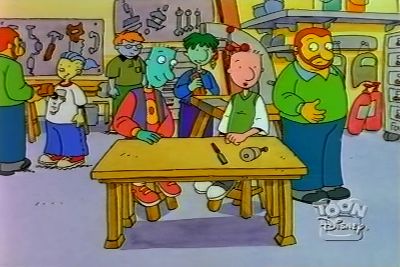 In Shop class, Doug and Skeeter keep discussing the movie and the Messrs Heaver chime in with their own opinions on the movie. One is for it and one is against it. There's no need to discuss this scene further.
In Band class, there's just no set up for this at all. We aren't shown what prompted the teacher to start shouting about how it's a great picture. That is just how the scene starts.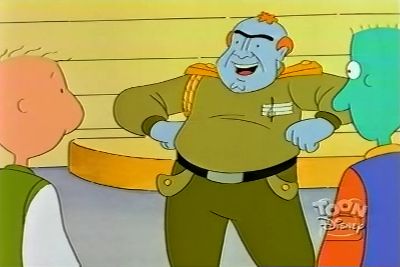 This is how he looks before he says, "Targetman's such a good looking fellow!"
The contents of this scene are a little more important than when Skeeter was Targetman, because they're actually pretty creepy. So, Targetman is surrounded by enemies and he yells, "DROP AND GIVE ME TWENTY!" They immediately start doing pushups and before you can ask, "what is going to happen in twenty seconds when the massive army of bad guy finishes doing twenty pushups?" a previously unseen woman steps up to Band Director Targetman and says, "kiss me, Target." Then we fade back into reality, the band director blushes and
shudders
creepily.
Skeeter says, "maybe this isn't such a great movie after all."
Later at Mr. Swirly, Al and Moo are playing with Targetman action figures.
Skeeter and Doug approach them because Targetman. Skeeter asks where they got the action figures. One of them replies, "they're free with every family values pack." The other brother then describes the coolest scene, where Targetman and his sidekick, Other Guy, have to find the codeword to open a fireproof vault.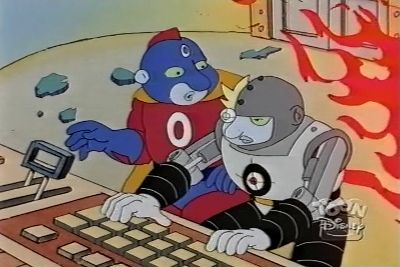 And again, the characters are replaced with the person/people describing the scene. Again, the scene is not important. There's a cheese joke, a pi/pie joke, and Targetman and Other Guy survive.
On the way home, Skeeter and Doug start pretending they're fighting like they're in a movie they haven't seen yet.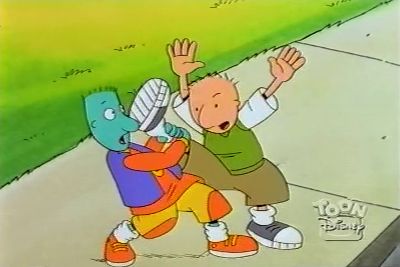 They end up on the ground as Patti walks up. She asks if they're alright and Skeeter replies, "sure. We're just doin' Targetman stuff." Doug asks if she's going to see it this weekend.
She replies, "I don't think so. Doesn't sound like my kind of movie."
Doug, smart as ever, says, "must be too mature for her," then he restarts the mature Targetman stuff he and Skeeter were engaging in before she so rudely interrupted with her immaturity.
A few seconds later they split up, heading for home. Doug then runs into Roger and his goons. Boomer bets Doug hasn't seen the movie yet.
Roger taunts him because he probably has to ask mommy and daddy for permission. Doug fights back, arguing that Roger probably has to ask his parents too. Roger says, "get a clue. My dad's a clown. He's lived in Bloatsburg for 6 years!" Doug apologizes for forgetting his parents are divorced. Roger says he doesn't care because at least he'll get to see the movie.
At dinner, Doug tells everyone that he'll be seeing the movie with Skeeter on Saturday.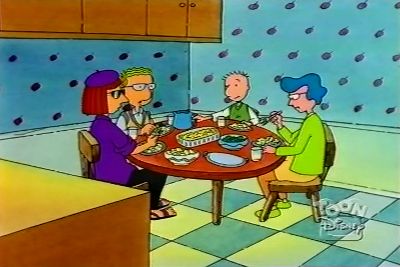 Judy rants about the movie being a macho, mysoginist explosion fest, and Doug doesn't understand her point. Phil and Theda chime in, saying they've actually researched this movie because they knew he would want to see it, and they think it's just far too violent and mature for him to see it. This must be the one time this year where they feel obligated to be responsible parents. Doug is pissed.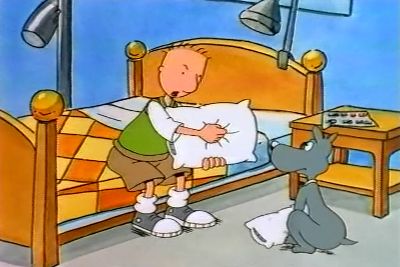 In his room, after punching his pillow several times, Doug lays on his bed and has his own Targetman fantasy. In this one, a media pundit has captured the president, strapped him to a rocket, and is threatening to push the button that will launch the rocket.
The fantasy doesn't go into how or why he'd be launching the rocket from inside the Oval Office, but that's where they are so just go with it. Finally we get to the Doug part. It's actually a musical. Three singers sing something I can't make out. Doug sings, "I'm big. I'm Doug. I'm big Dougman."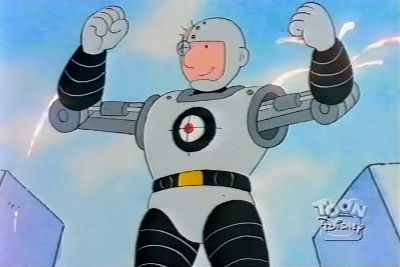 He's not Targetman? He's Dougman? Before Dougman can save the president, Theda stops him because it's nap time.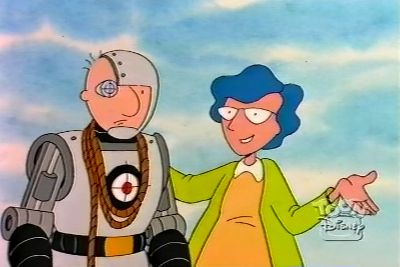 Doug is pissed because they're treating him like a baby.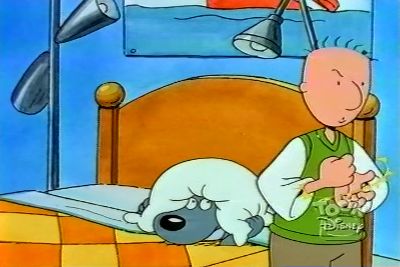 "They haven't even seen the movie. How can they say it's bad? And what about freedom of speech? What about my first amendment rights? What does this country stand for if I can't go see Targetman?" Porkchop doesn't want to hear any of this shit. Doug determines to go settle this with his parents right now.
Doug marches over to his parents room where they are preparing for the baby and listening to talk radio.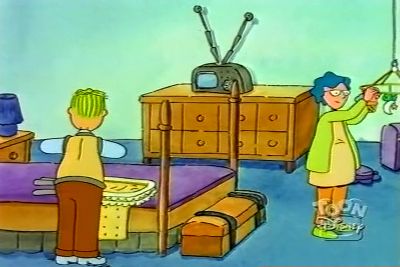 They're listening to Bob White's show.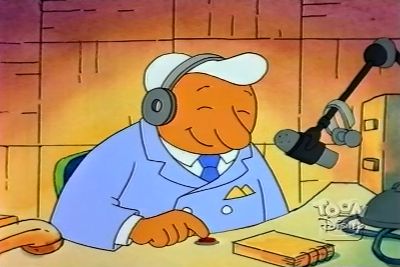 Before Doug embarrasses himself by confronting his parents with bad arguments, he hears that Bob White's show today is about Targetman and they're taking calls. Doug is brilliant...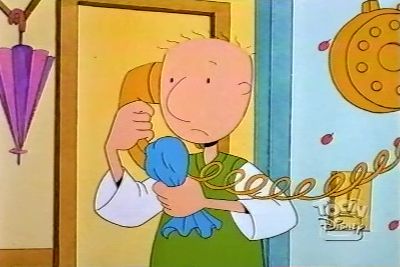 He says his name is Steve and he says, "as a person with a really mature outlook on life, everyone should let their kids see Targetman. I mean, how else are they going to make mature judgements about mature stuff and grow up to be really mature...like me?"
Then Judy interrupts.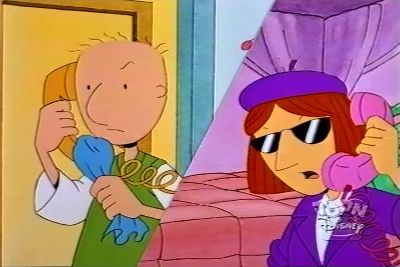 She needs Doug to hang up the phone because she needs to schedule an important rehearsal. Judy is the worst. Not that Doug was making a great argument that would have convinced even his shitty parents, but Judy doesn't really need to use the phone right now. It could wait a few minutes. Fuck off, Judy. Anyway, nothing really comes of this scene. Phil and Theda hear the whole thing over the radio and they're just mildly confused by it.
The next scene might be my favorite in the Disney series so far. At Roger's house, the doorbell ring and he runs down the starts yelling, "alright! Dad's here!"
He opens the door, saying, "heya, big clown!"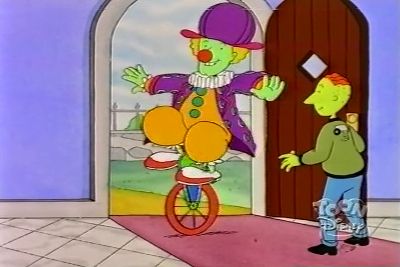 Yes, Roger's dad is actually a clown. Earlier, when he said he was a clown that lived in Bloatsburg, you might have thought this was just a kid's show's way of having Roger call his father a fucking asshole, but you might have been wrong.
There's just so much going on in this scene. It's probably the most tragic scene in the entire series. His father has been living in Bloatsburg for 6 years. He comments on how much Roger has grown, indicating that he really hasn't seen him often. He's sort of a deadbeat. Yet he makes his living as a clown, which really, is there any purpose for a clown other than to entertain children (at least, the children that aren't frightened of clowns)? He makes jokes throughout, presumably so Roger doesn't have time to ask real questions like, "how come you don't come around more often?" or "how can you make a living entertaining children while abandoning me?" Instead, he gets a surrealist joke and a balloon animal. Like he's 5 years old. He suggests they go see Targetman and his dad says he heard it's pretty violent before suggesting another movie. Roger dismisses the other movie as a kids' movie. His dad says he'd have to go see it himself first, to make sure it's appropriate for someone Roger's age.
Back at the Funnies', Doug has an idea so dumb only a twelve year old kid could come up with it. "Well, Porkchop, if they won't listen to me, I won't talk to them?"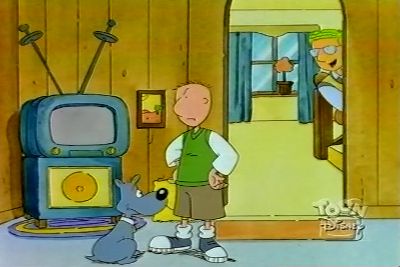 Phil tries to show Doug a new rocking chair he bought for Theda, then asks for the seat cushion. Doug is defiant and refuses to speak, but Phil finds the cushion on his own and thanks Doug for the help, completely unaware of the attempted cold shoulder. Doug counts this as a success.
Back at Roger's mansion, his father is back with a knock knock joke, which goes like this:
Knock knock
Who's there?
No way in the
No way in the who
No way in the world you're going to see Targetman. It's incredibly violent!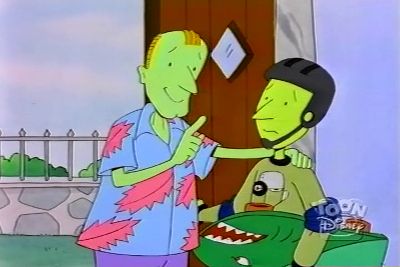 We could argue all day whether knock knock jokes are actually funny, but they're supposed to be, and if they aren't, they'd at least better be clever in some way. This one just reinforces the fact that Roger's dad is a fucking asshole. I mean, it takes a lot of balls for someone who has been apparently absent for 6 years to try to play the good dad while dropping bad news disguised as a shitty knock knock joke. Just fuck off, clown.
Back at the Funnies', Doug gets to try the silent treatment on Theda.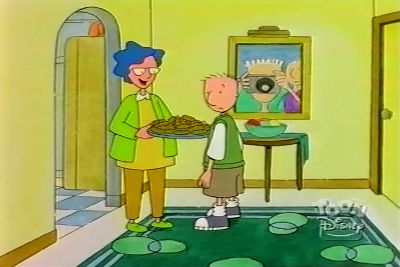 He bumps into her in the hallway. She's carrying a tray of what she called Peanut Butter Turkey Toes. Doug turns his back to her and chuckles to himself, thinking he's won another fight. When he turns back, she stuffs a peanut butter turkey toe into his mouth and walks away, completely unaware of Doug's defiance. This makes Doug realize the silent treatment isn't working. So he goes to Mr. Dink to get a second opinion.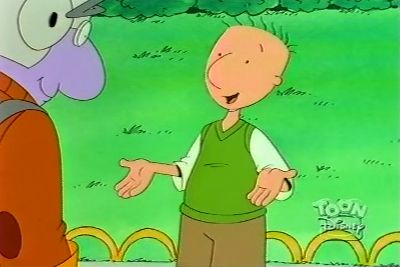 He asks if Mr. Dink thinks he's grown up enough to make decisions. The big takeaway from this conversation is "mature is as mature does." Also, Mr. Dink doesn't think Doug should see Targetman.
At dinner, Doug gets everyone's attention to apologize for his previous immaturity. From now on, he's a new, more mature Doug.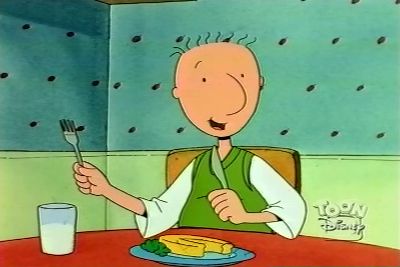 I just want to know what they're eating for dinner.
After dinner, Doug washes the dishes.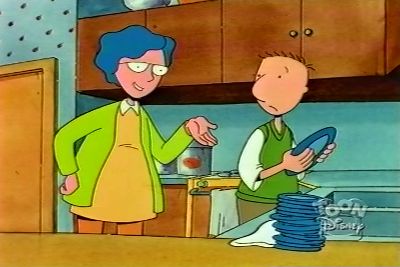 When Theda thanks him for cleaning them, he says, "I'm not sure my reflection is clear enough. Should I do them again?"
Later, Phil enters his room, which is now very clean, and compliments him on a job well done. Doug says it looks a little more mature this way. Meanwhile, he's brushing the fuck out of Porkchop's head, which he presumably thinks also makes him look mature.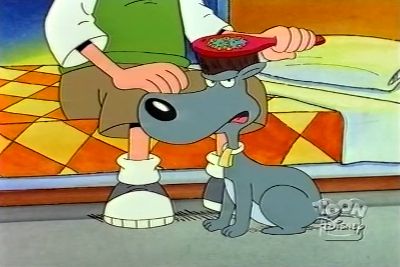 The next day, he's mowing the lawn. Phil thanks him for this but points out it was just mowed a couple days ago.
He also organized Phil's workbench. He's really going out of his way to prove how mature he is. It doesn't matter. At dinner, Theda compliments him on his newfound maturity. Phil says, "and the most mature thing of all, is that you haven't even mentioned Targetman. We're very proud that you realized it's just a movie."
Doug would have realized his plan was going to backfire if he was actually mature enough to see the movie.
Here's the gun blimp I mentioned earlier.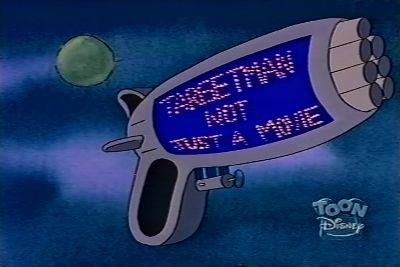 Right now, it's hovering above Doug's house. A speaker on the blimp says, "Targetman: Not Just a Movie." It's like a new form of creepy spy marketing. Doug laments the time he wasted acting mature. He calls Skeeter and tells him to come over tomorrow so they can go see Targetman. Why not just meet at the theater? Because...
The next day, Doug sees a group of kids out his window. They are marching down the sidewalk chanting, "Targetman. Targetman. Targetman." The marketing for this movie is bizarre and offensive. Doug experiences this old trope and I don't feel I need to tell you which side wins the argument.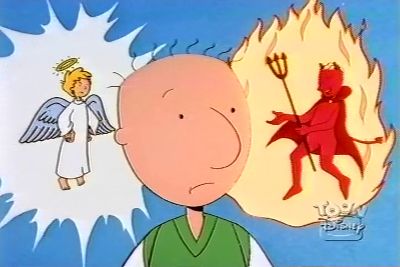 Finally, Skeeter arrives and almost reveals their true plans for the day. I don't know why Doug didn't tell him his parents wouldn't let him see the movie. Parenting tip: if your kid ever stops his best friend mid-word, like this...
...and then makes up a lie about where they're going like, "park...MALL! Where they're having a thing...CONTEST! Charity! Very mature! Wholesome! Good for us!" just go ahead and ground your kid to save the time. Also, check around your home for cameras, because you are clearly part of a sitcom where obvious lies are not so obvious for the sake of keeping the story going.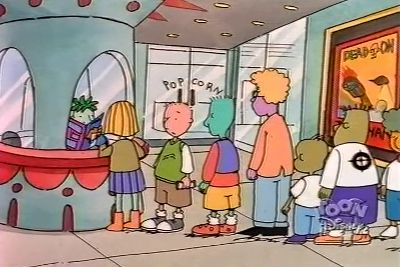 As you can see, the teenager working the box office is more interested in reading his magazine. Doug asks for two tickets and he asks, "are you over 17 or accompanied by a parent?" Doug and Skeeter stammer and don't even have time to make up a shitty lie before the shitty teenager hands over two tickets. Before they walk into the theater, they witness Roger being dragged out by his shitty father.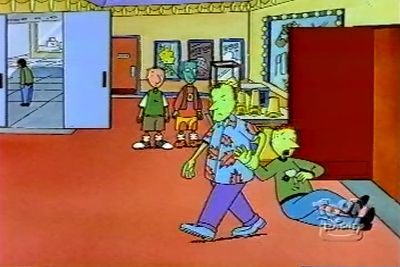 Seeing this, Doug and Skeeter question their decision to see the movie. At this point, two kids that are quite younger than them run by singing the Targetman theme song. This resets their resolve.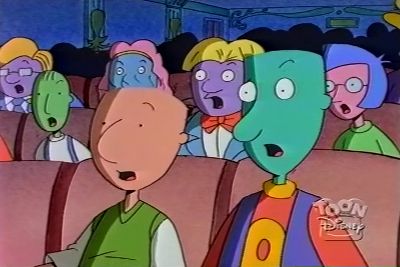 Throughout the movie, as it continues to be too much for them to take, Doug and Skeeter sink more and more into their seats. By the end, they regret seeing the movie.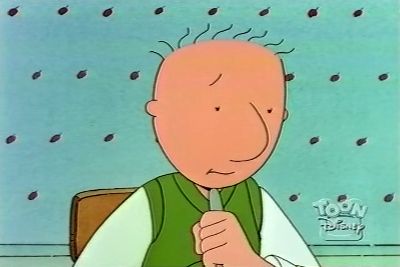 At dinner, Theda asks if he had a good time at that vague charity thing he did in the park. He says he did. She starts to reply when the hallucination begins.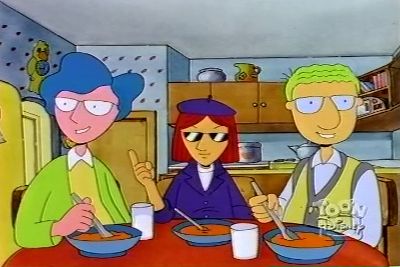 "That's nice dear. Are you..." *unintelligible monster noises*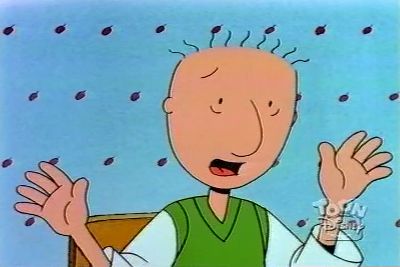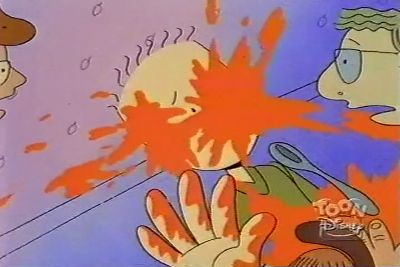 "AAAAHHHHHHHH!"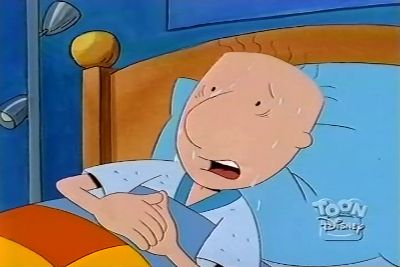 At this point, Doug wakes up in bed screaming. I don't know if the dinner scene was a real hallucination or a just a dream or possibly both. His parents enter his room and Theda asks, "are you alright, dear?" He says he wishes he'd never seen that movie.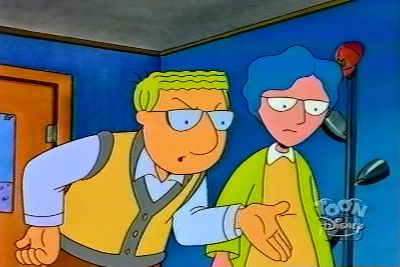 "What movie, Doug?"
The next day, Doug is sugarcoating the lesson he learned.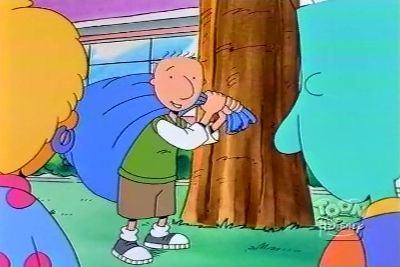 "The movie was lousy, it cost too much, and it gave me...nightmares...but at least it tought me a valuable lesson in maturity. I've decided to take on a bit more responsibility around the house."
Patti and Skeeter see right through this and acknowledge the fact that he's grounded.
What do you make of the scenes of the movie where Targetman is played by the character describing the scene? I think, as we're still reliant on Doug as narrator, that it's weird as fuck that he imagines the person describing the scene as the protagonist in the scene. I don't know what that is. The hallucinations and/or dream he has after seeing the movie seem to be PTSD, at least in the way it's become its own tv trope. I really have no experience and minimal knowledge on actual PTSD, but this is pretty much exactly how it is always shown on television.