This episode barely features Doug. This episode is all about Judy. We begin on a shot of Doug. Someone is recording him.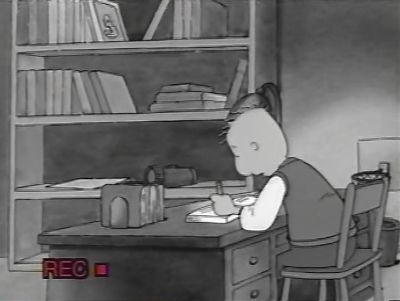 The weird thing about this shot is that we hear what Doug is writing in his journal. This would have been a great time to establish that he sits there reading out loud what he's writing in his journal. Instead he's just writing with his mouth hanging open slightly.
Anyway, he's writing about how, with the help of Skeeter of course, he'll soon have proof that the Lucky Duck Monster is real. He doesn't get far into his journal entry before he notices he's being taped. He yells at Judy to turn the camera off and she replies, "once more with feeling." He slams the door in her face.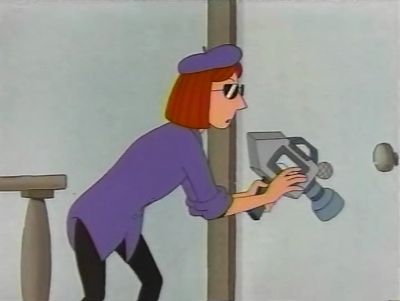 She says she's doing a documentary about their family for her video class and she "can't leave anything out just because it's vile and repulsive."
Wh...what? He was writing in his journal. He was fully clothed and he was writing in his journal. It seems extremely weird to describe his behavior in this moment as vile and repulsive. Doug doesn't really do vile and repulsive. You want vile and repulsive? How about filming your parents in bed?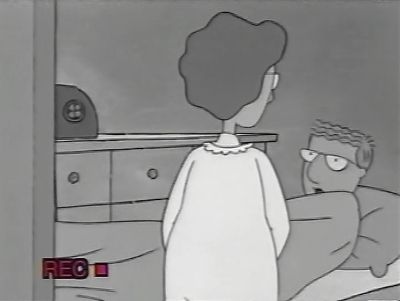 "Honey, do I have a pimple on my...AHHH! JUDY!?"
Theda slams the door in Judy's face and tells her she shouldn't sneak up on them because it's not polite. Judy explains that she needs to film everyone as they are and Phil replies, "well, why can't you show me as I really am with my shirt on?"
So, she sits down to explain that the documentary will now focus on her. She calls her family "anti-artistic." If only they were more artistic, they'd be exhibitionists, apparently. I guess.
"In this film, I will be scrupulously honest! There will be no censorship. No acting! Only the honest, unedited, real thing."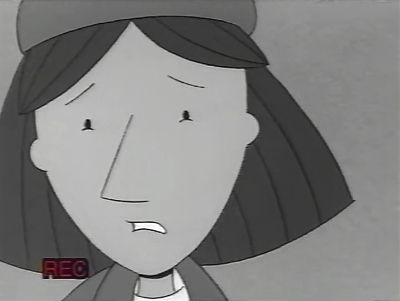 Judy's editor thinks take 17 of this line seems the most honest.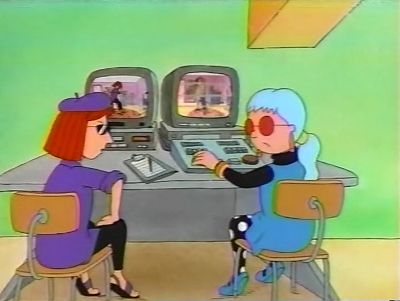 Judy agrees, but wants to use the first half of take 2 and the end of take 17.
In another talking head for her narcissistic documentary, Judy says, "the single hardest thing in the world is being natural and authentic on camera." This is her segue to talk about her favorite actor, Gwynne Gauntlet.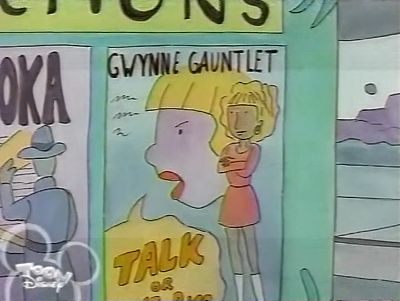 Over several clips from Gauntlet's career, Judy says she's totally authentic no matter the role. In all of the clips, her character says, "what is your problem?" This is especially bizarre. The woman has apparently forced a catchphrase into every role she's ever played. For comparison, I doubt that even Larry the Cable Guy has forced his dumb catchphrase into every movie he's been in, and even if he has (you research that and get back to me), the only idea more absurd than that would be a pretentious drama student praising him for his authenticity. Judy is a fucking hack.
She finishes the clip by saying Gwynne Gauntlet can do more with four words than other actors do with an entire dictionary. She says she should know this because she goes to acting school.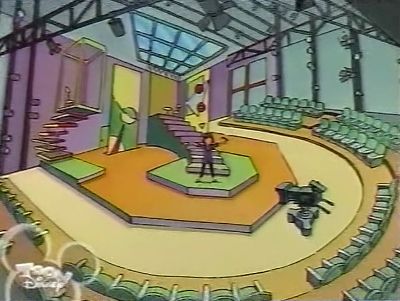 Next, she criticizes her fellow students. They start fighting for attention from the camera she's holding.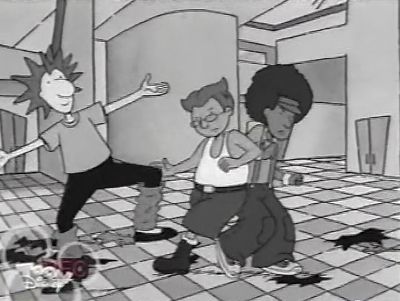 They quote various famous lines and she uses the footage to call them fake, as everyone is fake now that they are applying to college, competing for few spots at various prestigious acting schools. In the library, the editor from earlier (if she has a name, I've missed it.) says she hates all this applying for college that's going on because it makes everyone so competitive. She then immediately participates in what she just professed hatred for by telling Kim (yes, the third wheel in this scene gets a fucking name but I have to refer to the other one as "the editor from earlier") "I'll tell you where I applied if you tell me where you did."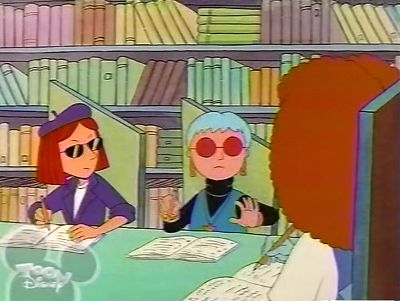 Kim replies, "no thanks. Don't care." Thank you, Kim, and while that was my initial reaction to discovering this episode was primarily about Judy, I think you'll agree it's not a total waste of time.
The editor from earlier doesn't let Kim get her down and proceeds to ask Judy where she's applying.
The editor is shocked because it's such a hard school to get into. Judy is skeptical because Haley Styles got in and Judy's grades are way better than hers. The editor laughs and calls Judy naive. Haley Styles got into Vole School of Emoting because her parents knew a famous director and he wrote a recommendation. It had nothing to do with her grades.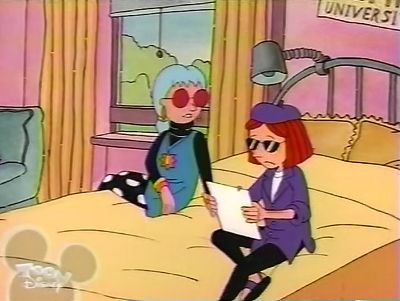 "Let me get this straight: you're saying the entire notion of academic merit is just a cruel joke?"
The editor suggests Judy find out if her parents know anyone famous.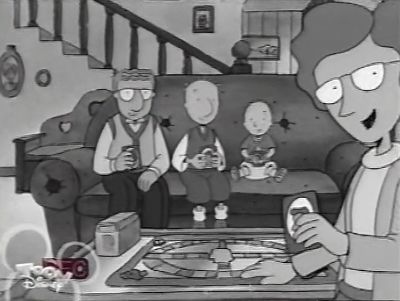 Theda has a friend that runs a place called the Puppy Time Playhouse over in New Hamster. She's sure her friend would write a recommendation. We're supposed to jump to the conclusion that the Puppy Time Playhouse is irrelevant to Judy's needs but she's applying to Vole School of Emoting. "Puppy Time Playhouse" could be almost anything, and puppies are better than voles, so I don't know. Maybe take what you can get. In the background, Doug reads a card for the board game.
Doug: "Who wrote Romeo and Juliet?"
Phil: "OH! I used to know that. Is it a movie?"
Good to have that moment on tape. The scene on the tape changes abruptly to a calm lake. Doug is complaining about having to be out there so early.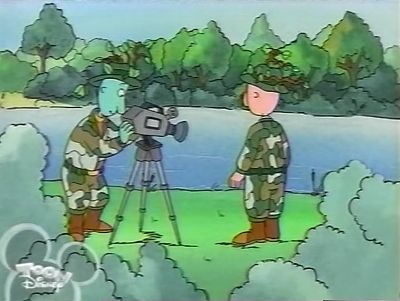 Skeeter says this is when the monster comes out to feed. How does he know this? They're still trying to prove the monster actually exists, so until then, you can just assume all of Skeeter's facts about the monster are bullshit. Doug lays down, saying he's going back to sleep. Skeeter says he's not going to sleep through prime monster spotting time, but he falls asleep shortly anyway.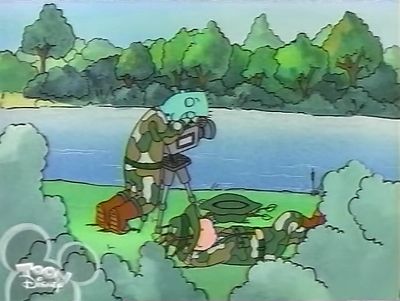 Splashing in the water wakes Doug up. He wakes Skeeter up and they fumble around with the camera trying to get it to record what must be the monster. On the camera, all we see as it finally focuses is this.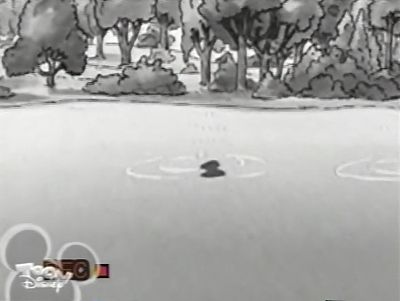 Doug and Skeeter are screaming at whatever terrifying thing that is.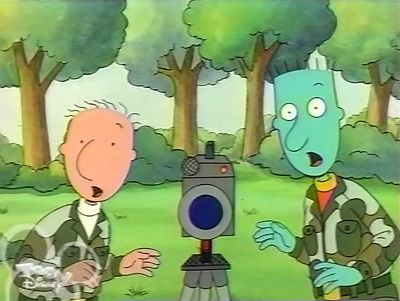 They rush back to Doug's house to watch the tape, because sticking around to see if anything resurfaces is bullshit. They have to see what might be on the tape! Unfortunately, Judy sees them and demands to know what they are doing with her camera.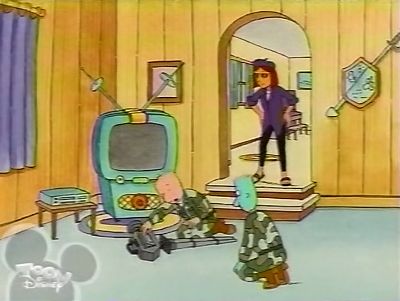 It might be safe to assume that the camera actually belongs to Judy's school. You can't assign a video project and assume all students have a camera at home to work with. If this is the case, Doug and Skeeter can go fuck themselves. Actually, they can go fuck themselves either way, because they used one of her tapes. The tape is labeled "Family Documentary Tape #2" and that is completely unacceptable. Whether her documentary is any good is irrelevant. It's part of an assignment for school. She doesn't steal Doug's writing utensils and random pages of his incomplete homework to doodle Shakespeare's butthole or whatever. Anyway, she takes the camera and the tape without letting them see the bullshit they filmed.
Judy defends herself by saying, "this tape is my personal video diary. Do I read your pathetic little journal?"
"YES!"
"Well, that's different. You're too boring to have anything to be embarrassed about."
"I have YOU!"
So, Judy's in class showing some of the footage she's shot for her documentary. The only thing we see is Phil hammering a nail in a wall to hang a picture. Judy says it's not very interesting so she tried to spice it up a little. Everyone in her class greets this pointless shit with blank stares.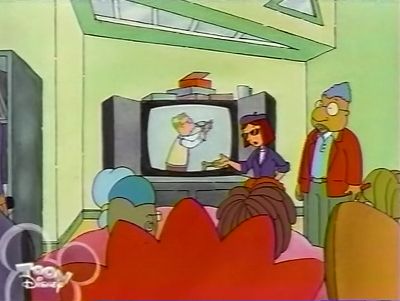 The teacher asks Judy to remember what he said about authenticity and staying true to your subject. She says it was just so boring, so he says they'll talk about it later. Spoiler alert: they don't talk about it later. Fucking liar.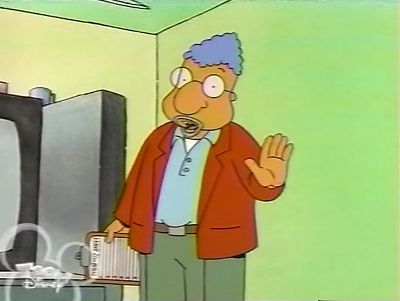 Giving up on teaching Judy anything, the teacher announces they're having a guest teacher next week and he has a sign-up sheet. Judy correctly identifies the sign-up sheet as a bullshit means of making one of the students act as an unpaid personal assistant to the guest teacher. No one gives a shit until he reveals that the guest teacher is Gwynne Gauntlet.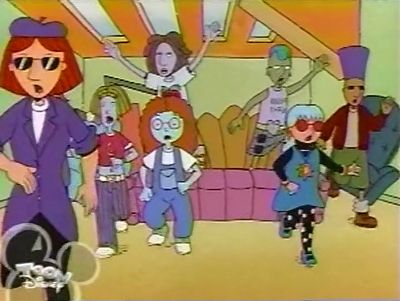 Judy puts this scene into her documentary, but pauses it to criticize the stampede. She's just sooooo above it. Anyway, she wins the stampede and signs up first.
Next, we have a scene with a girl who refuses to have a name, and a guy I've never seen before. They're on a golf course, being assholes.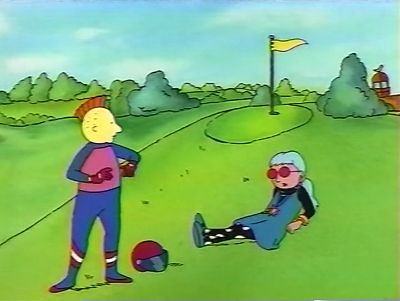 The editor is criticizing Judy for signing up for the thing just for a recommendation. The guy points out she would be doing it if she hadn't tripped over her own feet. She starts to explain that it's different because
she
doesn't need a recommendation, but gets distracted by what the guy is doing. She asks him what he's doing, and calls him by his name, which is Cas or Cassius, depending on how she feels like addressing him. He says he's training for the luge. His plan for college is to qualify for any small sport nobody's ever heard of so that every college will be eager to accept him. I would skip over this entire scene if it wasn't slightly relevant later.
At the airport, Judy is pretty anxious to meet Gwynne Gauntlet.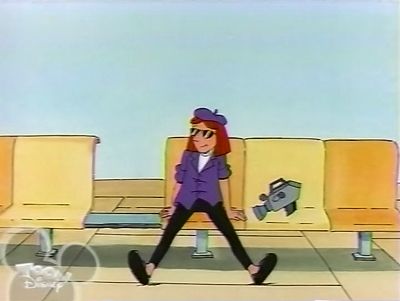 She's narrating her documentary, but her camera is in the seat next to her so I don't know what video plays under her narration. She says she feels they were destined to become great friends. Judy has her own ridiculous fantasy. She's having a sleepover with Gwynne.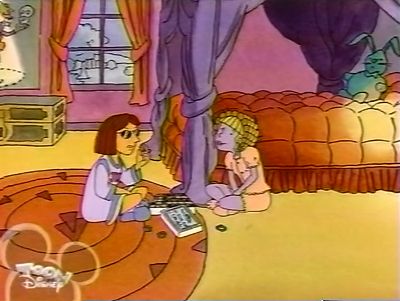 Gwynne says Judy is the sister she never had and asks if she'd like to be in a movie.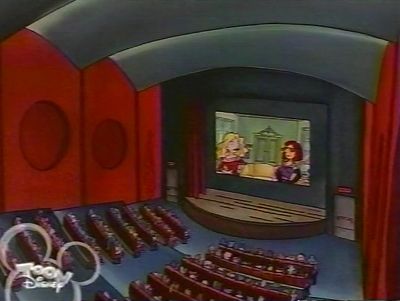 In the movie, Gwynne asks, "what is your problem?"
Judy replies, "my problem!? What is YOUR problem!?"
The movie is called What's Our Problem?
After the fantasy, Judy notices that Gwynne's plane has arrived. She basically freaks out and turns into a stupid fan with a camera.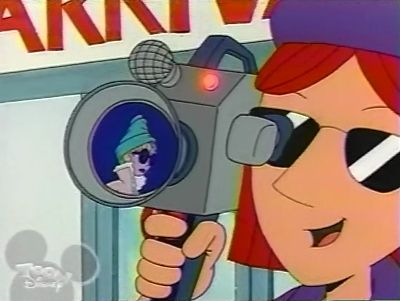 Gwynne Gauntlet tries to ignore the obnoxious fan with a camera but eventually has to address her by pushing her over.
Meanwhile, Doug and Skeeter are sneaking into Judy's room to find the tape they used to film the Lucky Duck Monster. They are idiots, so they're wearing camo and face paint and they're crawling on the ground. Skeeter notices a teddy bear open its eyes and grows suspicious.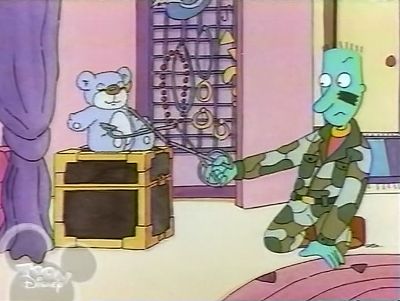 When he grabs it with the tongs(?) the bear says, "I love you." Skeeter can't resist the temptation any longer and picks up the bear to give it a hug. The chest it was sitting on opens and powder explodes from inside, covering Skeeter. A sign says, "DOUG GET OUT!" A recording of Judy says, "Doug, how many times do I have to tell you to STAY OUT OF MY STUFF!?"
Doug uses a fire iron to remove a tape from a shelf. Luckily, it is Family Documentary Tape #2.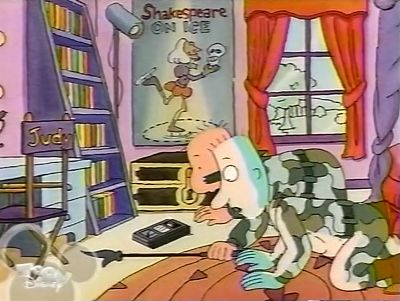 Forgetting their apparent need for stealth, Doug and Skeeter run downstairs and play the tape. It begins with a short intro from Judy.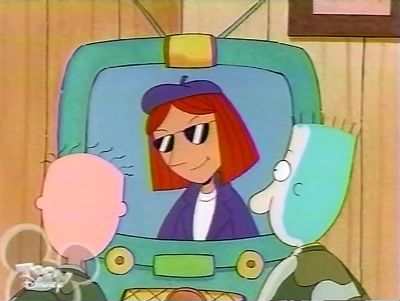 She says she knew Doug would try to steal his stupid monster tape, so she labelled all the tapes Family Documentary Tape #2. His monster footage might be on this tape or one of the hundreds of others. This seems like a huge waste of time. It would be funnier to send Doug on an elaborate scavenger hunt that ends when he finds the tape under a large electromagnet (borrowed from Mr. Dink, of course, very expensive). Anyway, Doug says he'll make popcorn, indicating that they intend to watch all the tapes.
Meanwhile, Gwynne Gauntlet is apologizing to Judy because she thought she was a "sleazebag photojournalists who follow me everywhere."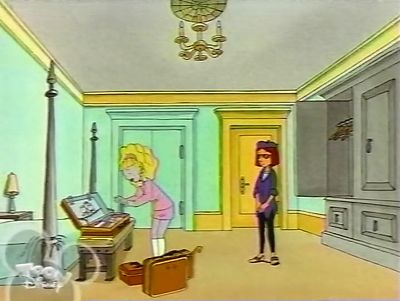 Judy apologizes for having the camera in the first place, but Gwynne says she was just doing what any ambitious, talented gal would do. She then asks Judy for some hangers. While retrieving the hangers, Judy offers thanks for the whole teaching thing Gwynne is doing. Gwynne starts piling clothes on Judy's arms while she explains that the whole thing is just a public relations stunt they're filming for some stupid show.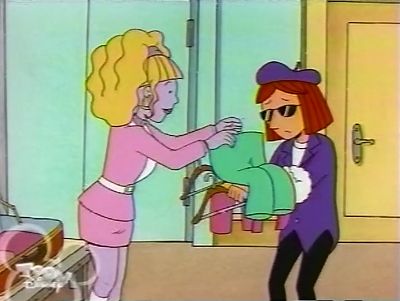 Judy offers Gwynne endless help. Gwynne immediately accepts the help and starts listing tedious tasks, like brushing her suede boots and arranging her wake up call and lunch for tomorrow. Before closing the hotel door on Judy, she finishes her orders with, "thanks so much. See you tomorrow, Jenny Penny."
Apparently Judy doesn't know how to brush suede boots because Theda is doing it.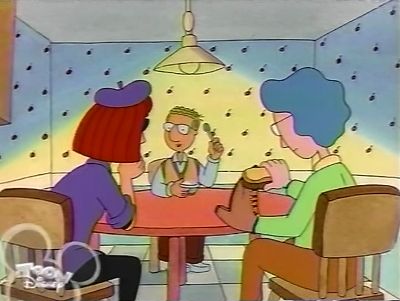 Phil asks when they'll get to meet the movie star. Judy deflects saying she's probably too busy to meet them. Theda says they should invite her over for dinner. Phil wants to tell her about his ideas for movies, like one where all the cops are singing.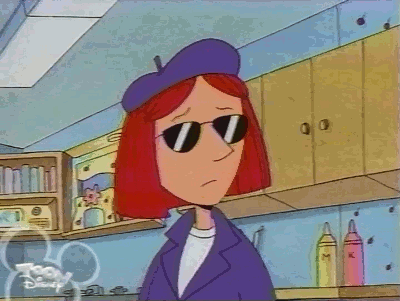 At school, Gwynne Gauntlet is showing home movies from her childhood as example. The footage is of her with her father in some foreign country studying some ancient thing, then her mom walks up, then the Dalai Lama joins them.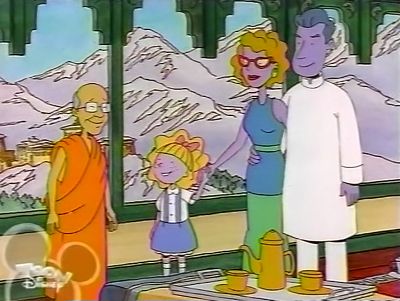 Little Gwynne asks the Dalai Lama, "what is your problem?" The editor is especially impressed by the footage. The clip is short, but it basically reinforces the idea that connections, not talent or hard work, are all that matter. After the clip, Gwynne says she wants to see some of their family videos. She calls on Jenny Penny. Judy puts her tape in the VCR and says she's trying to create a dialog with the footage she shot.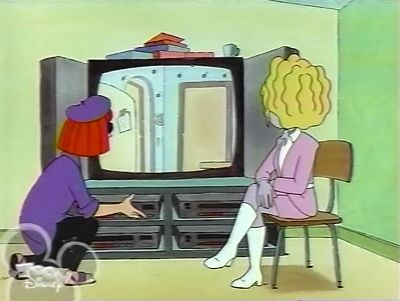 The footage is pretty funny. It's poorly shot, and Judy has replaced her parents' voices with her own so she could make them have a pretentious conversation about a production of The Tempest they saw last night. I would like to hear what they were actually saying, because Phil's showing Theda something on his ass.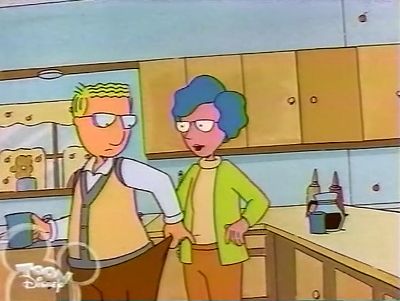 After the clip, Judy is asking the editor and Kim, "so, you didn't think that technique was interesting?" Kim tells her it seemed like she was trying to hide who her parents really are. Before they can have further discussion about this, Gwynne screams for Jenny Penny. Apparently, the sushi place forgot her maki. Judy says she has a class right now, and offers to get the maki for her as an afternoon snack. Gwynne has a total breakdown, stumbling back against the wall, screaming about her maki.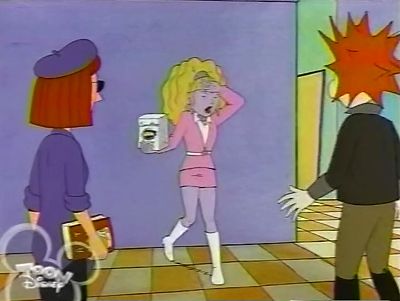 She says she is worthless without her maki, and slides to the floor. Jesus, lady, what is your problem?
The editor jumps in to say she could get the maki if Judy is too busy, but Judy rushes off to get it. While Judy is walking away, a no longer despondent Gwynne reminds Judy to reschedule her flight and do the rest of the list she gave her this morning.
So Judy rushes to Somethin' Fishy, that's the sushi restaurant, and then a flower shop, and then the cleaners. After the flower shop, there's a home video shot of Judy exhausted. Her voice-over says Gwynne's demands were starting to get taxing.
Judy recaps all the tasks she's completed. Gwynne is thoroughly pleased and calls her an absolute treasure.
Judy takes this opportunity to tell Gwynne she needs something. Gwynne says she'll do anything, but when Judy asks her to write a recommendation for Vole University, she looks it over and says, "oh, Jenny Penny...no."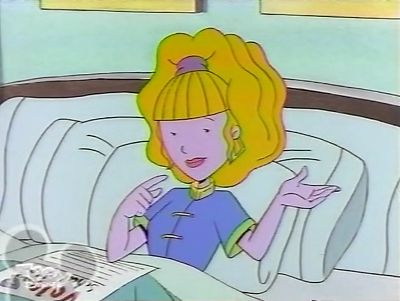 She says Judy isn't meant for college. She says, "you remind me of me, back when I was your age."
"Two years ago, right?"
"Yes! I thought about college as well."
"Did you now!?"
"But instead, I decided to struggle and work for my dreams right away! So I asked my papa please to cast me in a movie he was producing and I have never looked back."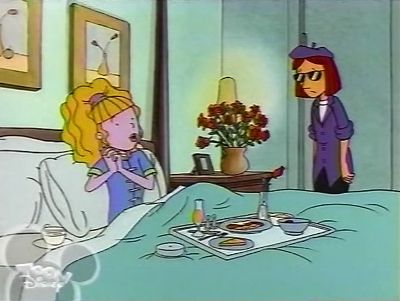 Judy says she really needs this recommendation, so Gwynne relents and agrees to write one.
When Judy gets home, everyone is having dinner. Theda asks if she knows what time it is. She apologizes and says she got tied up. Theda says she might have called and Phil says they were worried.
I don't get the big fucking deal. Suddenly they're worried when one of their kids doesn't make it home in time for dinner. "Oh, my! It's nearly 6:30 and young Judith is not yet home! Shall we phone the police and file a missing person report?"
"No, not yet. Dinner is ready. After we eat we'll call them up. Oh, and do remember to ask the police if they can recommend a good place to buy a coffin for a teenager. She is surely dead by now."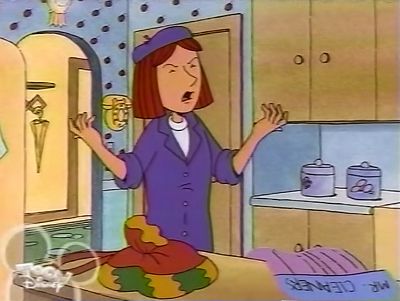 Their argument escalates. Judy sarcastically apologizes for working hard to get in to college. Phil says that's not the point. Theda says they're not angry at her for working, but Judy cuts her off before she can finish what I'm sure would have been a really good explanation for why they are angry with her. Judy says if they were more important and had connections, she wouldn't have to run around kissing up to celebrities to get recommendations. She yells, "TELL ME THE TRUTH! YOU BOUGHT ME FROM GYPSIES, DIDN'T YOU? HOW COULD I HAVE BEEN BORN INTO A FAMILY THAT THINKS JEAN LUC ENNUIS IS A SALAD DRESSING!?"
Phil asks, "if he's not a salad dressing, who is he?"
Doug says, "Ennuis' early works vibrated with a certain joie de vivre, but I have to say his later works lacked a, hmmm...how do you say, je ne sais quoi."
At his parents' blank stares, Doug clarifies that he's been watching some of Judy's tapes.
The editor picks Judy up the next day and says she looks like death in a basket. Judy says she's fine. The editor says Judy shouldn't let Gwynne work her to the bone because it's humiliating and not worth it in the end. Judy narrates and I finally caught the editor's name. Judy says, "I knew Sincerity was only saying it out of envy, but I have to admit, she had a point." Fucking Sincerity. I'd go back and edit the post to put her name every where it would otherwise have gone, but fuck that. I might still just call her the editor.
At school, Gwynne tells Judy that the producer of It's Entertainment wants to arrange dinner tonight for her, the director, and some other important people. Judy says she's really tired, but Gwynne ignores her and tells her to pick a restaurant and make reservations, and then call her
fiancé
and tell him it's over.
Judy says she has to tell Gwynne something. She was going to tell Gwynne she couldn't treat people like this and that she quits.
Gwynne disarms Judy by saying, "Jenny Penny, you can tell me anything. We are like sisters. Tell sis your problem."
Judy stammers, then meekly asks what time the dinner reservation should be for.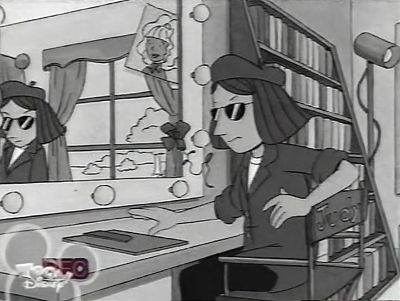 "At that moment, there was only one person I hated more than Gwynne Gauntlet. Me."
Remember earlier at the golf course with the guy practicing for the luge? Well, he's given that up and is now trying the caber toss. He doesn't do well at it either.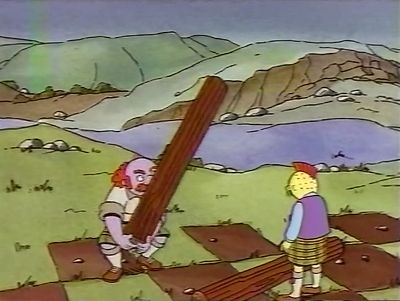 Judy enters Gwynne's hotel room to tell her they are two hours until showtime. Gwynne is sitting on the bed eating strawberries and drinking what must be a mimosa and playing solitaire. Judy notices her Vole University application is on the bedside table under a coffee mug. She picks it up and says, "oh, I guess you didn't have time to get to my recommendation."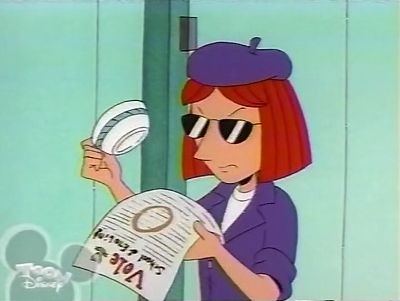 "Ahh! Meant to all morning, but it's just been so crazy. I'll do it first thing after the show."
Judy is skeptical because Gwynne's really not going to have time for it. Gwynne asks Judy about a few errands she was supposed to run and makes Judy realize she forgot to take her suit to the school. Judy lies and says it's there. When they get to the school, she calls home hoping Phil or Theda can bring it. When Phil says, "hello," Judy assumes he picked up the phone and starts to give him instructions. When the phone keeps ringing in her ear, and Phil and Theda walk up, she realizes she is completely fucked.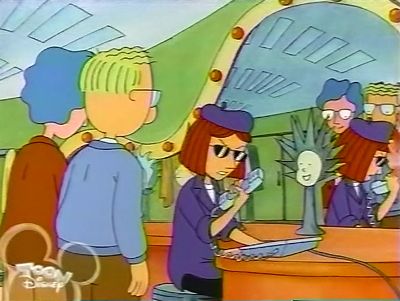 Judy freaks out. She hears Gwynne coming and tells her parents to hide. They try to make it about her being embarrassed by them, but she doesn't have time to argue. She runs out of the dressing room to greet Gwynne. Barging into the dressing room, Gwynne looks around and asks where her suit is, before assuming it must be in the closet. Judy stops her from opening the closet and is about to confess that she fucked up, but Doug shouts, "hey Judy look what I got," right before running into the dressing room with the suit. Unfortunately he trips.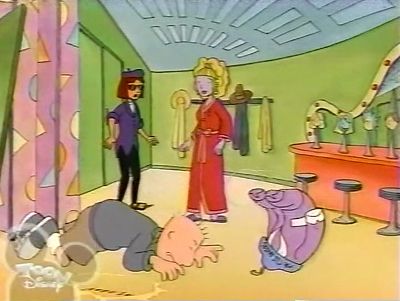 Gwynne demands to know who Doug is, and Judy says he's just the laundry delivery boy. Gwynne freaks the fuck out.
"Laundry delivery boy? Looook what he's done to my suit! It's a mess! I ought to have you fired you little twerp! Do you realize what you've done? WHAT DO I HAVE TO WEAR FOR THE NETWORK NOW? YOU TINY CRUMB OF CHEESE! YOU HUMAN DOORKNOB! YOU INSIGNIFICANT LITTLE PILE OF..."
"SHUT UP!!!"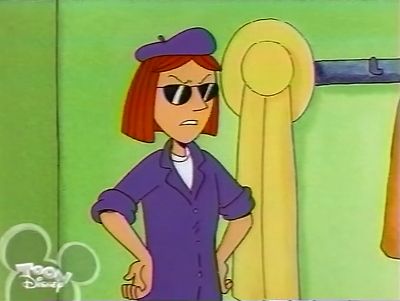 Judy has finally had enough and admits that Doug is her brother and her parents are hiding in the closet.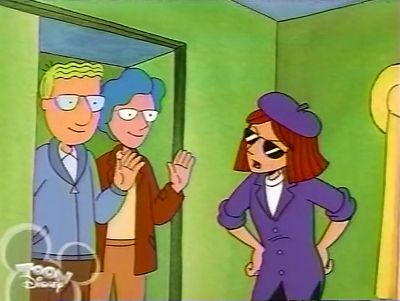 Judy goes on a pretty good rant that finishes with the great reveal that her name is actually Judy. Gwynne's response is hilarious.
"Judy, Judy, Judy...why didn't you tell me he was your brother? I thought he was a delivery boy whom I was free to humiliate."
Judy says, "he's a human being! You don't have a right to treat anyone that way!"
Gwynne ignores this and says, "you know, Judy, if you don't want to do something for me, say so!"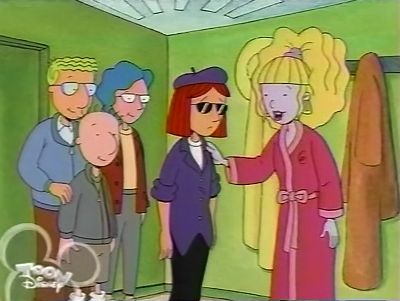 Judy tries to say she thought Gwynne wouldn't give her a recommendation if she didn't do everything, but Gwynne predicts this and tells Judy to get her video camera.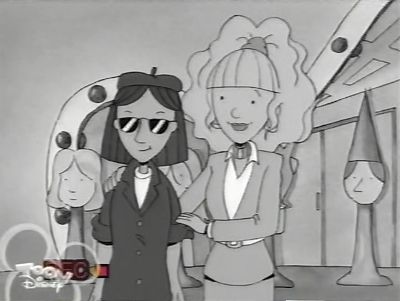 "Dear admissions officers, as I'm sure you can tell, I'm Gwynne Gauntlet, and this is Judy Funnie. She is the most capable young talent I have ever worked with and I recommend her highly for...whatever."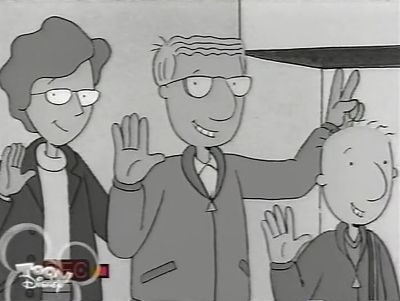 Judy ends her family documentary with footage of them dropping Gwynne Gauntlet off at the airport. Her final narration says, "and so the Funnie family bids a fond farewell to Gwynne Gauntlet, having come to realize that some people might be cooler than you think, despite appearances to the contrary."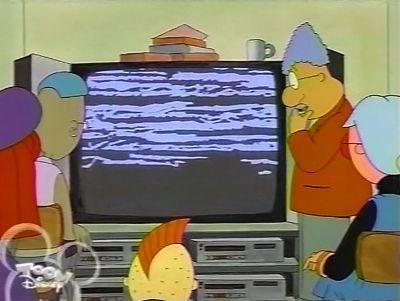 Her teacher calls it interesting and self-absorbed work.
Most importantly though, Judy finally gives Doug and Skeeter the tape of the Lucky Duck Monster. She warns them that it's not what they think.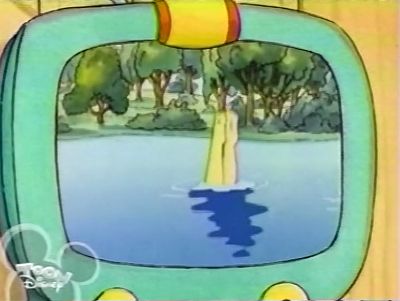 So they definitely got something on camera, and it's feet. Sincerity and her caber tossing, luge goober Cassius are synchronized swimmers and for some stupid reason they practice in Lucky Duck Lake.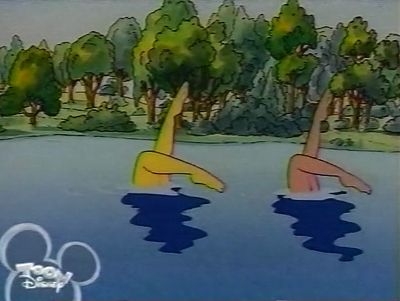 If Doug and Skeeter hadn't run off so quickly to check the tape, they would have certainly seen Sincerity and Cassius resurface and do some more swimming moves. Maybe we would have gotten a really good scene of Doug and Skeeter trying to coax them out of the water, fearing the monster might eat them. Doug and Skeeter could have spent the rest of the episode looking for the monster instead of looking for a tape that didn't have the monster on it. Oh well.