This episode begins with Doug looking at a travel brochure and saying, "it was going to be paradise!" There's even beach noises and cliche relaxing beach music to accompany his thoughts.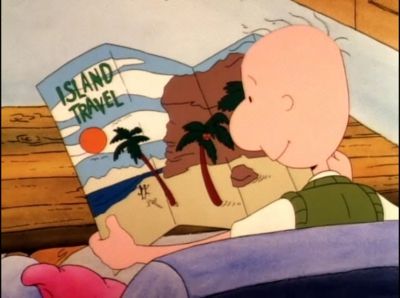 But he's not going. Phil and Theda won a week long cruise vacation. Doug is excited because they aren't getting a babysitter. It's just Doug and Judy for a week. His parents brought out the roll of paper so they could write down every possible number the kids might need.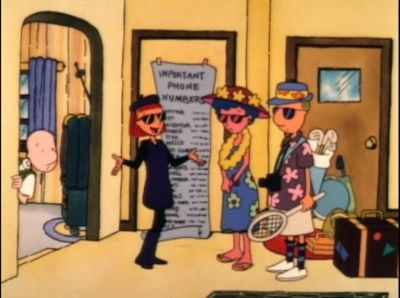 You can't see it in this shot, but there's even numbers for the National Guard, the C.I.A. and the F.B.I. I don't know why they thought their kids might need those numbers, but crazy parents have to be prepared for any situation their crazy kids might encounter.
In the car outside, Phil is reassuring Theda that their kids are responsible enough to stay home alone for a week. Then they hear Judy scream, "gimme that," followed by a loud crash.
Their parents couldn't even turn on the car before they started fighting about what to watch on tv. Doug wants to watch Space Monkeys 2000. Judy wants to watch Shakespeare on Ice. Both of them are wrong. Porkchop helps Doug win temporarily. Doug throws the tv remote to Porkchop, who then sneaks under the couch and gives the remote back to Doug. Phil and Theda come in and end the fight by calling a babysitter.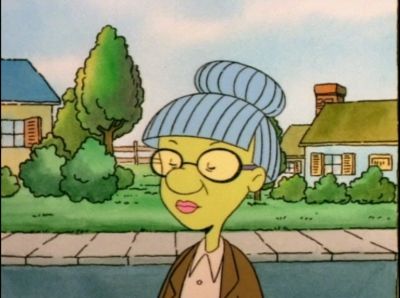 This is Mrs. Stinson, and I'm hoping at this point that this episode will be a tribute to Don't Tell Mom the Babysitter's Dead. "Stinson" is close enough to "Sturak," but unfortunately Mrs. Stinson doesn't die like Mrs. Sturak. Instead she sings. She pulls out her bag and starts singing a song about all the rules while pulling large things out of the bag. It's like Mary Poppins if Mary Poppins was a bitch with a bunch of pointless shitty rules. Always do your chores. Animals live outdoors. There's a contract they have to fill out if they want to go anywhere. No Shakespeare. She chains up the refrigerator. No telephone calling. No comic books. No crazy outfits. No sunglasses for Judy. And dinner is nothing but prunes. I really wish she'd just die. She doesn't, and to prove she just sucks more, her animal is allowed to live indoors.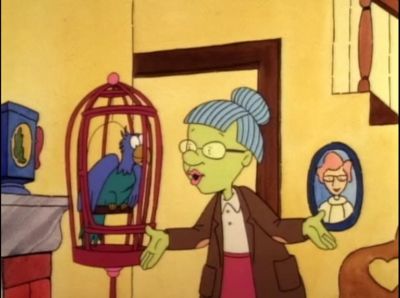 Yeah, so she literally kicks Porkchop out of the house, but her parrot Sunflower gets free reign of the house. I cannot say enough how disappointed I am that this woman lives through this episode. Look at the clothes she makes them wear in accordance with the rule that says "no crazy outfits.
Because a purple dress and a green vest are just too crazy, they have to dress like Mennonites for the week.
Obviously Doug and Judy do not like their new prune diet either. Who would? To prove how old she is, Mrs. Stinson points out that they're good for your digestive system. Only a really fucking old person would forget that kids typically don't have problems making shit exit their bodies. You have to be so old that you've forgotten there was ever a time you were able to poop unassisted. So that's where we are. Dinner is prunes, and she refuses to let them talk during dinner. She's knitting something, probably something uncomfortable, and Doug deliberately and obviously knocks her ball of yarn onto the floor. He does it to distract her long enough to pour his plate of prunes into the front pocket of his coat. He shows off his clean plate and is allowed to leave to work on his homework.
An hour later, Porkchop is sneaking back up to the house with peanutty buddies, but Mrs. Stinson will not be fooled. She's got infrared goggles.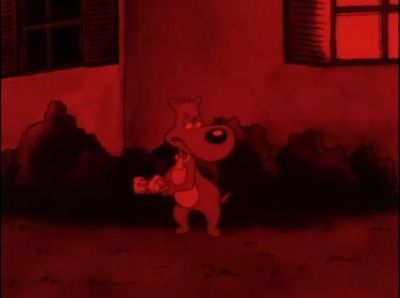 Seconds later, Porkchop is snagged in a rope trap and hanging upside down. Spotlights have turned on and the whole operation is blown. When did Mrs. Stinson have this elaborate, ridiculous security system installed? How much are the Funnies paying this woman? Are Bluffington merchants just cool with selling things to animals?
Doug says this is the worst week of his life. This is arguably true, but here's a small ray of hope for the episode.
Yes, let us see how Quailman would handle this situation! Doug starts to fantasize, and his drawing moves, but Sunflower squawks and announces that Doug is not doing his homework. Mrs. Stinson quickly rushes upstairs to confiscate the drawing. Why didn't Doug lie and say it was for his art class? Mrs. Stinson says her late husband always said that rules weren't made to be broken. Such a pointless, annoying thing to say. I'd just counter that by saying, "in the Funnie house, it's a rule that you aren't allowed to be an unreasonable, out-of-touch bitch, but that's not stopping you, is it?" What's she going to do to make his situation worse? There's no incentive to follow the rules because following them is as bad as being punished for breaking them. I just wish Doug realized that.
At school the next day, Doug starts drooling at Mr. Bone's morning announcement when he mentions the lunch special: cream bologna burritos. The whole class groans with disgust, but Doug drools.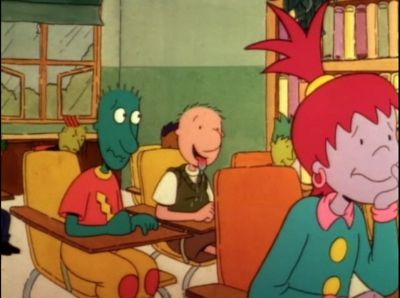 Mr. Bone reminds everyone that tickets are still available for the Civic Awards Ceremony where he'll be receiving the Disciplinarian of the Year award. I can't believe tickets are still available...
At lunch, Doug starts asking for a lot of everything. Skeeter is shocked to see someone so excited about school food. Before he can get his food from the lunch-lady, Mrs. Stinson intervenes.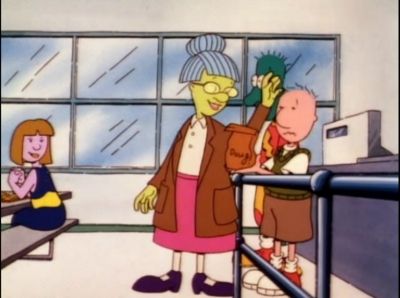 She's brought him a lunch and embarrassed him in front of everyone.
At home that night, Doug and Judy are back in their Mennonite costumes and Mrs. Stinson is rewarding them. They've finished their homework, so they get to watch 30 minutes of television. She gets to choose what they watch though and she picks her favorite show: Top Prison Guards. Why would this be a show? I guess it would be the same sort of prolonged, repetitive, unnecessary documentary bullshit like Deadliest Catch or Ice Road Truckers. The sea was unruly; some crabs are caught. The ice road was icy; a trucker manages to deliver anyway. The prisoners are mean criminals; the guards respond in kind. Does anyone care? Apparently, yes.
Judy doesn't care though. She immediately excuses herself and says she's going to bed. Doug points out that it's only 7:30 and she snaps at him to shut up before composing herself saying "early to bed, early to rise." Mrs. Stinson calls her sensible and tells Doug he could learn a lot from her. Doug realizes she's right and goes upstairs to find Judy climbing out her window.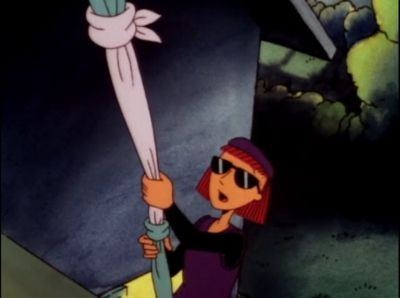 Doug wants to come too but Judy makes him stay to distract Mrs. Stinson. Doug asks her to at least bring him a cheeseburger, and she agrees. Sunflower is in the room the whole time, but for some reason doesn't report them. Mrs. Stinson finally finds out Judy is gone when she brings them some buttermilk and cod liver oil. Again, so fucking old she forgot what not being old as shit is like. Doug is unable to stop her from entering Judy's room. Finally Sunflower whispers in her ear to tell her where Judy is.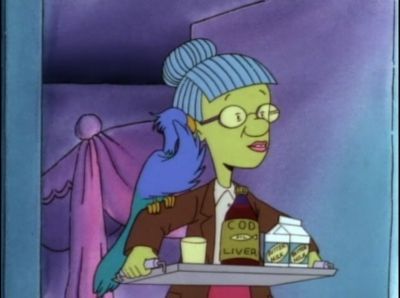 Why is the bird whispering? This is ridiculous insanity, and I don't know if Doug's making it all up or if this crazy old woman really has a bird whispering in her ear. I think what happened, and this isn't really clear, is that Sunflower actually followed Judy to find out where she went. It's the only reason I can assume for why she wasn't immediately ratted out, and the only reason Mrs. Stinson knew Judy was at a movie theater.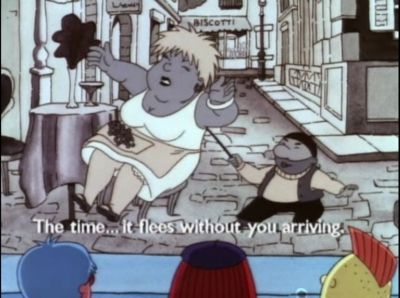 There's something weird about Judy's movie experience too. She's watching a black and white Italian film in a sold out theater. It's a small theater, but there's no way any small town in America is going to pack a theater during the middle of the week for a black and white Italian film. Anyway, the movie stops and the lights come on and one of the theater employees ask if Judy is in there. She is embarrassed, and instead of saying, "nope, that's not me," she goes. The cops bring her home.
Because that's what the police are for.
At home, Doug still asks about the cheeseburger, because he is an idiot. She accuses him of being a stool-pigeon, but Doug points out it was the parrot. Doug says they need to work together to get out of her clutches. Judy says that woman needs to get a life and that gives Doug an idea. Then there's a weird montage where Doug points out something in the newspaper, Judy grabs a feather boa, they paint Doug's fingers black, and they both take note of the time on the wristwatches they never wear except in that one shot in this episode. This plan is going to be brilliant.
Downstairs, Mrs. Stinson notices the house is awfully quiet and tells Sunflower she's going to do a perimeter check. Phase 1 of the plan is in effect. Phase 2 involves seducing the bird with a makeshift hand puppet made out of a feather boa and painted fingers.
This just has to work. Judy speaks for Doug's parrot-hand and calls Sunflower handsome. She asks if he's new around here and invites him over to see her some time. She just hangs out by this piano; never mind the open top. The sad thing about this pathetic plan is that it's working. Sunflower likes what he sees. The Doug/Judy-parrot drops the handkerchief into the piano and when Sunflower goes in to get it, Doug slams the piano top down. Sunflower is trapped. Doug and Judy stand up and Judy says, "you know what to do!" Doug responds, "meet at City Hall at 0800 hours!" They're saying this for Sunflower to hear.
Upstairs, Mrs. Stinson finally notices the rope of bedsheets leading out of Judy's window and assumes they've escaped together this time. She runs downstairs and finds Sunflower ruining the tuning of the Funnie's piano.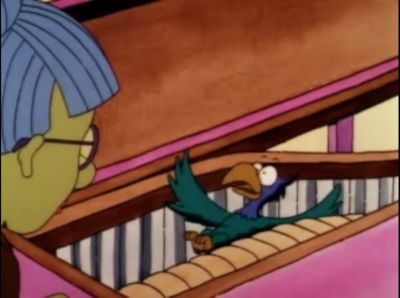 Sunflower tells her they were planning to meet at City Hall at 8 am. What could possibly be going on at City Hall at 8 am?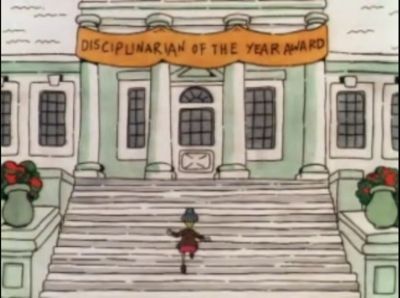 Oh, right. And actually, Doug and Judy are still in the house. How did they know she'd actually leave the house this time? Last time she just called the cops and they did all the work for her. What if she did that again?
At the awards show, Mr. Bone is speaking to a very bored audience of one. He's proudly accepting his award and giving his speech to someone that appears to be asleep, which only makes you wonder why that person is even there. Mrs. Stinson bursts in just as Mr. Bone is finishing his speech with "rules are not made to be broken." She claps and shouts "bravo" and "encore" and then tells Mr. Bone it was a beautiful speech.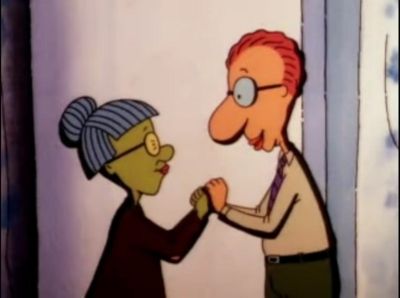 So Doug's plan involved getting this old as shit woman to fall in love with the assistant principal of his school. It worked. At home, Mr. Bone and Mrs. Stinson are holding each other while Top Prison Guards comes on, and merely tell Doug and Judy to have fun when they say they are going to the Honkerburger. What a bizarre plan. I've never thought of Mr. Bone as being terribly old. I've assumed he was mid-40's like Principal Skinner. I don't know how old he's supposed to be, but I'd never guess he'd go for a woman as old as Mrs. Stinson. I understand the basic attraction through similar interests (being an authoritarian asshole), but there's a limit, and no amount of similarities would overshadow an age difference that included drinking buttermilk, taking cod liver oil, and eating prunes. It's possible they just became good friends immediately, but the way Doug describes it with the hand-holding and feeding each other definitely implies that Doug thinks they're going to be enjoying the fact that she's too old to have children. Or lamenting that fact. Either way, Doug thinks they're fucking.
But he's not really that crazy in this episode. Porkchop does some impossible things, but there's not really a whole fantasy in this episode at all. Doug starts to see his Quailman drawing move, but the bird distracts him before it can take off. His plan is crazy, but it works, so maybe a crazy response to a crazy situation is simply appropriate. Whatever. I'm just pissed that Mrs. Stinson didn't die.