Doug, Patti, Skeeter, Porkchop, and Dirtbike are rocking out to The Beets.
They're enjoying a broadcast of a Beets concert. Doug narrates that they've always been his favorite group, when they are still a group. The concert is interrupted in the middle of a song by breaking news that The Beets have once again broken up. Doug, Patti, Skeeter, Porkchop and Dirtbike don't stop dancing while discussing this news. Doug is a little disappointed. Patti says they'll get back together. Judy intrudes on their fun, and asks Doug why he insists on destroying his brain with that commercial pap. She turns off the tv.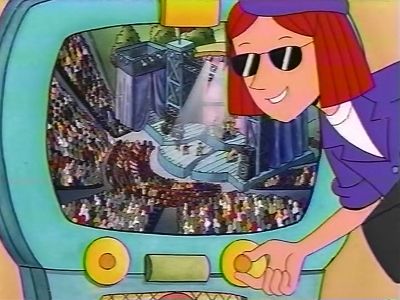 She wants to play her latest artistic composition that "proves there is more to music than rhythm and melody." Her tape is a series of loud, disharmonic sounds that causes everyone else in the room to cover their ears and wail for it to be turned off, while Judy is doing some sort of interpretive dance.
She stops the tape only because their wailing is the perfect sound to add to it, and she must record it.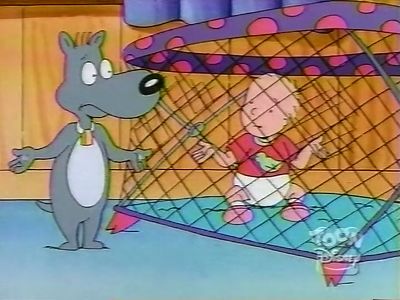 Lunch talk at school the next day is all about The Beets. There's rumors that Flounder is starting a new band in Bluffington, looking for a new direction in music.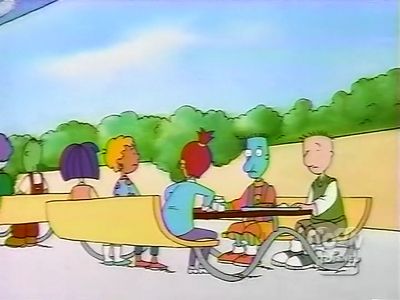 Doug says he hopes he doesn't change too much. He likes the sound of The Beets. He gets up to put his tray away, but his sock snags on the table and he trips.
Roger promptly mocks Doug for wearing big, loose socks.
Today is Phil and Theda's anniversary. Theda loves the present Doug got them.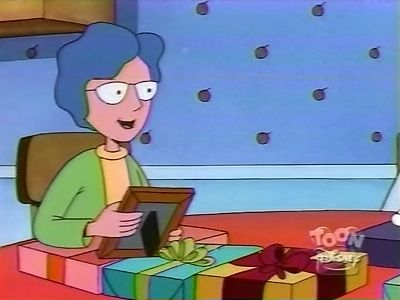 It's just a photo of Doug and Porkchop in an apparently handmade frame. Phil is also pleased, though the screenshot I took makes it look like he thinks it sucks.
Judy stands up to dedicate her new performance piece to her parents. The piece is called "Savage Cheese." Before she begins, the doorbell rings. Theda jumps up to answer it, presumably eager to delay "Savage Cheese" as much as possible.
At the door is a Skin Deep Beauty representative.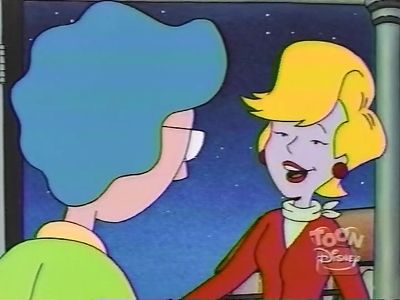 She's trying to sell makeup by the bucket, which is a good indication that it is crap. There are a number of things that are totally reasonable to sell this way. Certain fruits or nuts, perhaps. An overflowing bucket of makeup is an overflowing bucket of crap.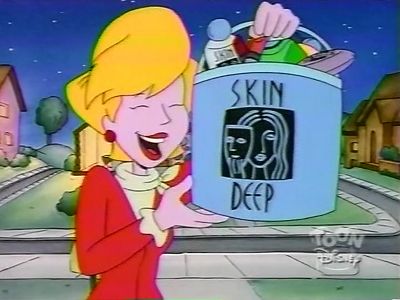 The woman is offering a make-over and Theda doesn't much care for the idea. The woman gives her a card, in case she wants to try beauty, Skin Deep. It's really a terrible business model to take an idiom that means conventional beauty is a poor indicator of personal character, name your company after that idiom, and then go around telling everyone they need to look beautiful. I can see that you are a person with no or poor character; won't you buy a bucket of makeup so you can at least look pretty? Furthermore, you know what women need? Strangers ringing their doorbell to tell them they should try to be beautiful, for a change. Aren't you tired of how you look? I've got a bucket of makeup here and surely something in this bucket can do something to make your face look better. I mean, I hope. You're not giving me a lot to work with here, Theda!
Anyway...
Theda returns to her family, already thinking about getting that make-over. Phil asks who was at the door and she explains. Phil thinks the idea is kind of ridiculous. Doug likes that she always looks the same. Judy is happy her mother isn't a slave to fashion. With each of their responses, they have made the idea of a make-over that much more intriguing.
Finally, Theda opens the gift Phil got her for their anniversary. She is excited until she sees what it is. Then she's confused. Phil explains that it's a waffle iron that makes waffles in the shape of Marlaine LeFlame.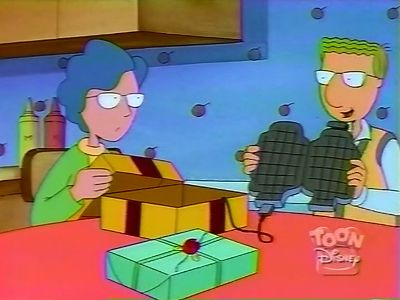 Phil is too enthusiastic about this dumb shit gift to see that Theda is annoyed.
Meanwhile, Flounder is rehearsing with his new band.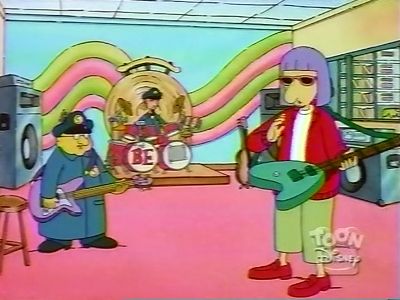 Yeah, those guys. Flounder stops rehearsal because he needs a new sound. Right now they sound too much like The Beets. While he's thinking, an explosion of incomprehensible sounds excites him. The engineer in the booth apologizes and explains that the sounds are just some "nutty tape I recorded for a girl as a favor to my cousin Cassius." Flounder likes the shit.
At the Funnie house, Theda is doing nothing in the kitchen. She's just standing there, hearing echoes of her family's comments about her looks. She uses the waffle iron as a mirror before pulling the Skin Deep card out of her pocket.
Porkchop starts freaking out about something happening outside. Doug jumps up to see what's going on.
Seeing Flounder walking up to his front door immediately triggers a fantasy.
Flounder knows Doug is really busy with middle school, but he needs a new sound.
Doug is the only one who can help him.
Granted Flounder's fashion isn't far off from Doug's to begin with (it's really pretty close to Philip J. Fry's...) but I like the detail in Doug's fantasy. When you ask Doug for a new sound, you get a banjo, a sweater vest, and a baseball shirt.
How else could this interaction go?
After the fantasy, Doug answers the door and Flounder asks for Judy.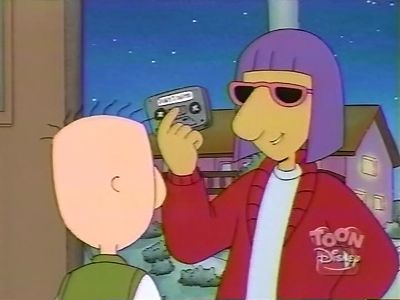 Doug confirms that she lives here but asks why he'd want to talk to her. Before Flounder can explain, Judy comes to the door.
Flounder says he wanted to meet the person who made that tape of shitty noises. She starts to be a condescending, pretentious asshole to him, but he interrupts her to tell her how much he liked the tape. She says she was just working on her latest piece that "expresses the indifference of society to artistic otherness of the other." So she plays that for him. Doug is perplexed.
They sat on the front porch listening to Judy's crap for hours. Doug is thoroughly annoyed by this, so Porkchop (who has been listening to his own music on a walkman) struts in and shuts Doug's fucking window. Why didn't Doug think of this extremely simple solution? Because he's fucking stupid. His dog is smarter than he is.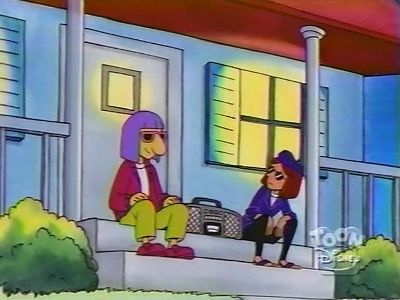 Toward the end of the night, Flounder is just agreeing with every stupid pretentious thing Judy says. She's skeptical of his commitment to being a pretentious asshole, but none of that matters once he finally asks her if she wants to get coffee sometime. She tries to hide her excitement and comes up with a pretty good cover for how getting coffee somehow plays into her above-it-all persona.
I don't know how old Flounder is supposed to be, but I'm not sure it matters because Judy is still in high school and it is fucking creepy that they have started dating.
And he started dressing like her! It sort of weirdly implies that Doug's fantasy involved Flounder dating him.
Doug says it wasn't long before everyone started talking about Flounder and Judy. Beebe and Connie flag him down at lunch and insist he sit with them even though he hasn't even grabbed his lunch yet.
Neither has Connie for that matter...
They want to know if the rumors are true. Doug is hesitant, but confirms that Judy and Flounder are dating. Beebe offers him some imported chocolates. Connie compliments his hair.
Now that he has a rock star in the family, they are interested. Connie is particularly interested in his newfound ability to get front row tickets to certain concerts. Doug doesn't know about any concert, so Beebe says Flounder has a concert next Friday with his new band. Before Doug can think about being indignant about their disingenuous affection for him, Roger interrupts.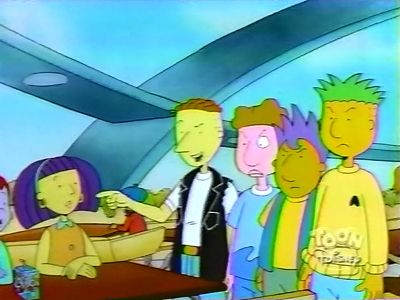 "Hey, Funnie! About those socks..."
"Cut it out, Roger."
"They're very cool."
Scroll back up and look at how angry Boomer, Willie, and Ned are. They may be wearing loose socks, but they are fucking pissed at Doug. Anyway, this is a fucking ridiculous ploy. Roger is rich. When faced with two options, flaunting his wealth or sucking up to Doug, he chose to suck up to Doug in such a stupid way.
Walking through the halls at school, everyone says hello to him. Doug doesn't understand his popularity, somehow. I mean, it's not hard to imagine Doug doing the same kind of sucking up to someone else in a similar situation, is it?
After school, Doug asks Patti and Skeeter, "if I can get front row tickets to the concert, do you guys want to come?" Of course they do. If he can get tickets. Connie intrudes and wants Doug to promise he'll get her a ticket too.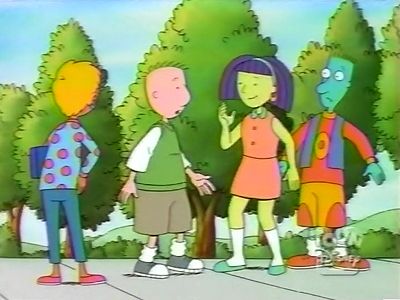 Then Beebe intrudes to make sure Doug wouldn't get Connie a better ticket than he got her. Then Roger wants to make sure Doug wouldn't leave him and his goons out. Then an entire crowd of people who don't even have names because Doug hasn't interacted with them enough that it needed mention in his journal want tickets.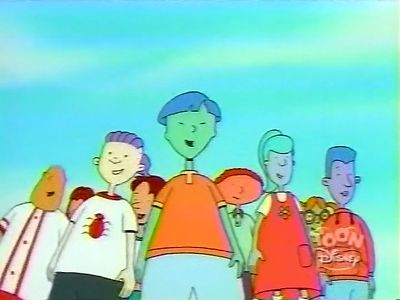 Look at these parasites. They chase Doug home.
I can only hope this is an exaggeration by Doug when he wrote this down in his journal.
Doug has to slam the door on the crowd. Before Doug can catch his breath, Theda calls him from the kitchen. He enters the kitchen, ready to ask his mom about his problem, but he is confronted by a stranger.
He apologizes and says he's looking for his mom, Theda Funnie. It's weird. Doug doesn't realize this is his mom, so he apologizes to, essentially, a total stranger for apparently intruding on her privacy in his home. He tries to clarify who he's looking for like he mistook her for someone else at the mall. After he finally catches up, he says she looks like a movie star, then corrects himself to "two movie stars." I don't know what the fuck that's supposed to mean, but Theda takes it as flattery.
Phil enters the kitchen and has much the same reaction as Doug. He catches on quicker though. He is dumbstruck, then decides to get his camera. Thrilled, Theda consults her new mirror that also can make waffles if you're into that sort of thing.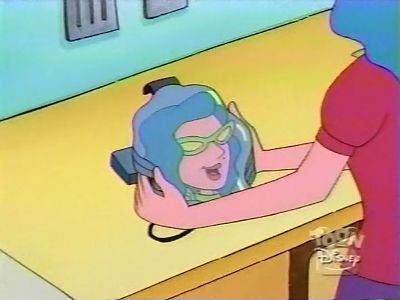 Theda apparently does not like waffles.
At the recording studio, Judy has taken over the band rehearsals. First, she's annoyed the drummer, whose name is apparently Eric (I honestly don't know if his name was established before this), keeps using drum sticks. She insists that he needs to use ferns instead.
She says it's an homage to the rainforest.
Next, she's upset with Norman.
She doesn't want him tuning his guitar anymore.
Eric asks Flounder why she's always bossing them around. Flounder explains that she's creating an artistic vision for the band. Norman says she's creating a giant pain in his neck. She says all this descension is draining her creativity.
Doug intrudes on this shitty situation to ask Flounder for tickets. Their gratuitous male bonding interrupts Judy's meditation.
Judy says her friends will occupy the front row. Flounder says there's enough seats for her family and friends, and he'll still have some left over.
This excites Doug and he has a fantasy.
"And now presenting, the longest front row in rock and roll history!"
Like it's the main attraction.
After the fantasy, Flounder does the math and tells Doug he can have three tickets. Doug has a fantasy about this too and it somehow makes even less sense.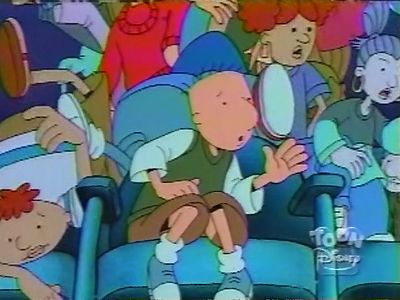 He has three seats, so naturally everyone still came with him and then they attempted to pile into those three seats.
Somewhere near the top, Beebe points out this is all Doug's fault and then commands the pile of people to get him.
At home, Phil has set up all his photography equipment and retrieved all his cameras so he can document his wife's transformation. At some point, I hope she resents him for this.
Judy is indignant for her, right now. Phil is insisting they go out to eat again. He can't have his "new wife slaving over a hot stove."
Fuck you, you stupid fucking asshole. This is such a terrible attitude to have about your partner.
Theda tries to tell her shithead husband that she likes to cook but he ignores her. She sits back down at the table, sad. Doug narrates, "it's weird. I was popular and mom was glamorous. So why weren't we smiling?"
The next day at school, Doug is growing tired of his popularity. People have stuffed his locker with balloons and gifts and he's annoyed by this.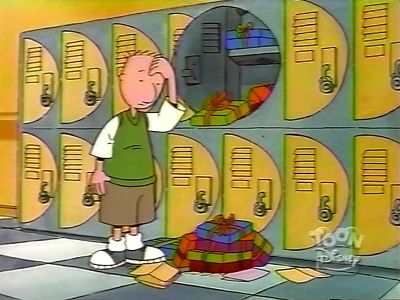 Everyone else figured out the combination to Doug's locker except Roger. Roger presents his gift in person.
How much did that jacket cost, Roger? Was it more or less expensive than a front row ticket? How much more or less? Did they ask for your dignity and self respect when they were selling the tickets or did you think you'd just give that up anyway. It's not like there was much of that to begin with, right?
Doug wants to explain to Roger that he's only got three tickets, but Beebe interrupts to tell him she's stocked her dad's limo with Peanutty Buddies. What time should she pick him up?
Before Doug can explain to Beebe, Connie interrupts with a song she wrote for him.
It's not a good song and no one in the hall likes it.
At home, Flounder asks Doug what's upsetting him.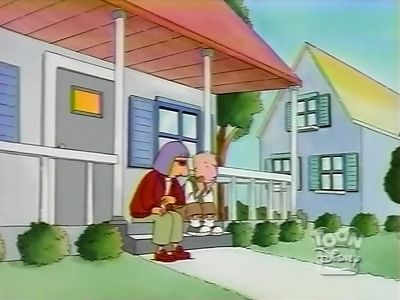 Doug explains and Flounder apologizes for the fact that he only has three tickets left. Doug understand this. He knows getting even 3 free tickets is more than he has any right to expect. He just wants to know how to decide who to invite.
Flounder actually has some good advice for this. He says, "when you're famous, or even know somebody famous, everybody wants to be your friend. it gets hard to tell if people really like you for yourself." Basically, Doug should invite people who like him whether he gets them tickets or not.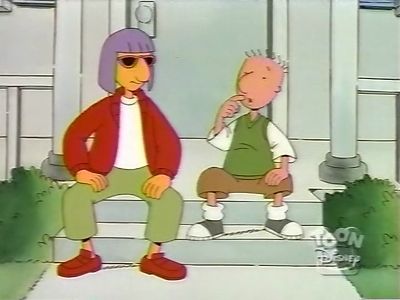 Everyone gathers at Doug's house for their free front row tickets. Doug nervously admits that he kept trying to tell everyone he couldn't get tickets.
He apologizes and no one gives a shit.
They immediately disperse. They might be searching for pitchforks and torches.
Doug is a jerk. Not because he didn't get them tickets. He's a jerk because he waited until the day of the concert to tell them he didn't get the tickets. If he had told them up front, they would have had the opportunity to buy their own tickets. Presumably the show is sold out and now their only option is to buy tickets from scalpers. You could argue that he tried to tell them but he kept getting interrupted and talked over, but it would be less rude for him to interrupt back and shout, "FUCK YOU I CAN'T GET YOU TICKETS, YOU FREELOADING SCUM," than to sheepishly agree to get everyone tickets, then leave them hanging on the day of the concert. Anyway, after the crowd disperses, two people remain.
Doug asks if they were mad. They understand. Skeeter is just happy Doug will get to tell him about the concert. Doug is not surprised and neither is Porkchop.
Walking into the concert, brazenly wearing the jacket Roger gave him, Doug is confronted by Beebe. She says she had to dip into her trust fund to buy the only remaining seats, and those seats are in the nosebleed section.
She also gives him a bill for the imported chocolate. Connie says she rewrote her song. Roger wants the jacket back.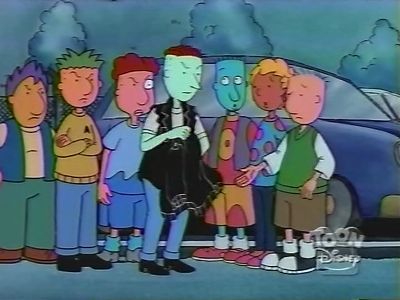 Willie, Ned, and Boomer look as angry as ever.
Backstage, Judy is telling the band that everything about their costumes and props is wrong.
Eric is upset that he's holding carrots, asking if they are an homage to bunnies, before he throws them down and quits the band.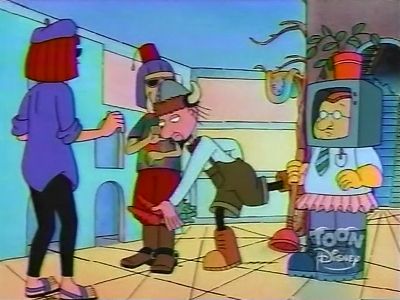 Norman also quits. Judy is glad they finally quit. She's glad only the true artists remain.
The arena is packed when Doug, Skeeter, and Patti finally take their seats.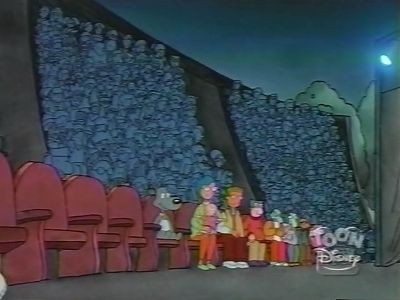 Please note that Porkchop is already there. When Flounder was calculating how many tickets he could give Doug, he had already committed one ticket to a fucking dog. He had three tickets leftover because he did not count Doug among his group of people needing tickets, but Doug's dog definitely needs a ticket.
Doug immediately notes his mom's appearance. She's back to classic Theda. She says, "well, my new look was fun for a while, but I decided I like being myself, beautiful or not. Besides, the kind of beauty you get from a make-over is only skin deep." I don't know what I could type here to indicate an annoyed groan, but maybe just imagine that was my response to Theda. Doug says she was always beautiful all the way through and Phil backs him up.
Finally the concert begins. For high pretentious art, naming the band "Flounder and the Plastic Judy Band" seems a bit uninspired. I couldn't bother to take screenshots of all the shit Judy does during the first song. She's banging on sheet metal, dropping anvils, honking horns, and banging on cans and bottles. The crowd exits en masse.
Flounder is somewhat perplexed. Judy says she expected it. The music was beyond their comprehension.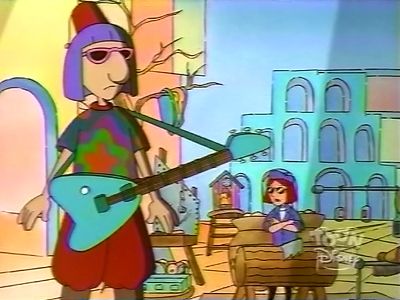 Flounder tells the remaining group of Funnies, Skeeter and Patti that they might as well leave too. Phil tells him they're not going anywhere.
What an ideal situation! You have six occupied seats. They didn't pay for those seats, so hopefully everyone that left during the first song doesn't want a refund, or at least won't get one. Now you get to play the full concert to six people and a dog, none of which can even pretend to like the music. They're just there to support you and your massive failure. Porkchop is the only one that planned for total bullshit.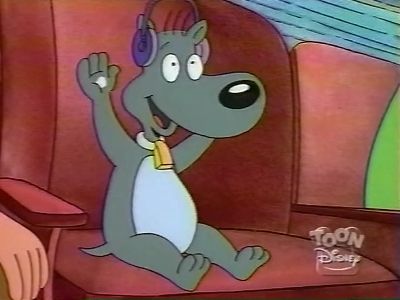 Flounder dedicates the next song to the Funnies, for always being there for him. Patti and Skeeter should maybe take offense since they stayed as well, but whatever. For this song, Judy is playing the sawing-a-log-in-half. It's not an easy instrument.
And it sounds like this...
After this disaster, are you surprised The Beets are back together? Before they start playing on the tv, Flounder thanks Judy for making him see music in a whole new way.
Judy is disappointed that Flounder has returned to The Beets when he was so close to being a real artist. Doug says, "I thought you liked Flounder."
She replies, "as an artist, no. As a friend, I suppose he's...tres cool."
So, Doug, Patti, Skeeter and Porkchop return their dancing.
If I had to argue that Doug Funnie was not crazy, I'd use this episode. He's maybe a dumb-ish kid, but being a little dumb is kind of what kids do. He's at least not the dumbest kid in his school by far.