Doug says Skeeter turned to the one source for accurate monster news, in his ongoing search for the Lucky Duck Monster.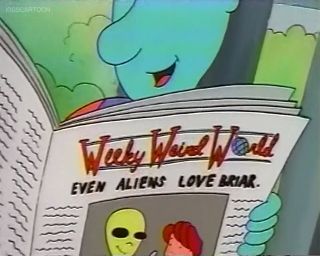 Doug and Porkchop are just playing cards while Skeeter laments the lack of monster news in the latest Weekly Weird World.
Al and Moo are teaching their dog the periodic table, but pause long enough to tell Skeeter the Weekly Weird World is crap.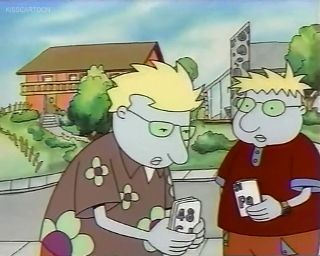 Skeeter says he was going to read about Brian Langolier, and Al and Moo quickly change their tune. One of them calls Briar the "true model of female beauty." They try to take the paper from Skeeter and drop their element flash cards.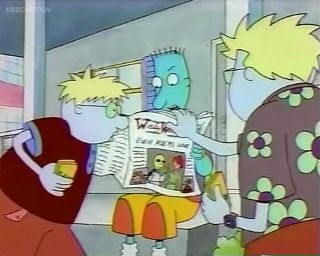 Patti catches the plutonium card and asks if she can hang out with them. She says Beebe won't do anything while Teen Heart Street is on. "It's like she thinks everything stops at four o'clock!"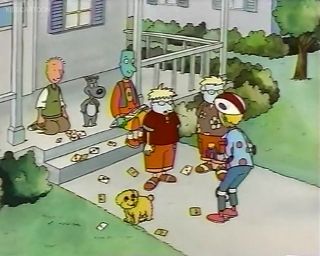 Al and Moo express shock that it is four o'clock and chuckle as if embarrassed when Patti says, "don't tell me you guys watch that junk." They run inside the house with Skeeter after saying they do.
Doug tries to play like he's on Patti's side. He calls the stories totally bizarre. "Like, I hear there's this school election coming up, right? And Franklin Most, he's like this campaign manager. He threatened to keep eating lima beans until Briar gets elected, and uh...maybe we could stand over near the window?"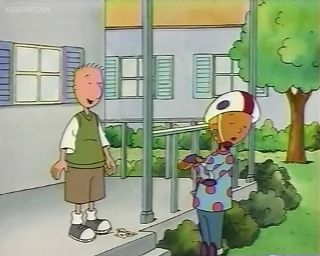 "Doug, do you wanna watch the show?"
*embarrassed chuckle*
"Oh, go ahead. I don't mind."
Now we get to see some of this awful show, Teen Heart Street. A man is asking Briar, "is it true that if elected you'd put the 'body' back into 'student body president?"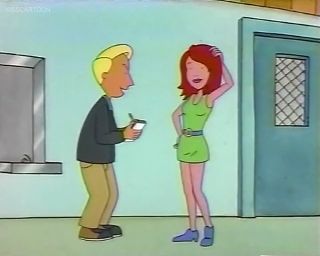 She's posing awkwardly and says she just wants to make people happy. This is part of a terrible tv show Doug, Skeeter, Al and Moo are watching.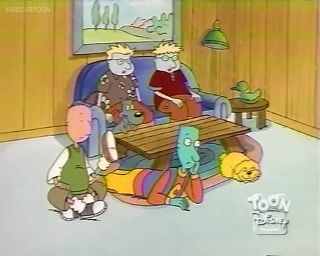 Al and Moo are totally sold on her promise to make people happy. The man turns to another girl, a girl who doesn't look like a model, and asks, "so what makes you think you can possibly win?" Al and Moo boo the screen.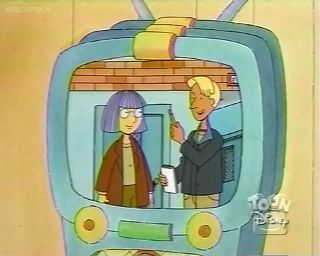 She says, "well, I have all four years experience in the student council. And I'm a member of the national junior merit scholarship fund for the gifted."
The reporter asshole says, "sure, sure, and I can see you're handy with a knife and fork too." The girl has no chance to respond before some other asshole interrupts the whole thing to excitedly announce that the votes are in and the first girl won.
Patti, Connie, and Beebe are also watching this awful show. Beebe declares it to be the best episode yet.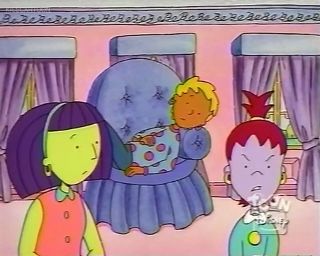 At this point, I wish Patti or Connie or both or all three of them started laughing about the episode, as if it was somehow supposed to be making fun of sexist bullshit instead of just being sexist bullshit. Instead a voice on the tv says, "stay tuned for a commercial that looks like a documentary."
The commercial defines fat as cushion from injury, or insulation to keep you warm, but then says, "for most of us, it's just ugly, old fat." Fat blobs glide on screen. Patti, Connie and Beebe all gasp. Another blob of fat drops down and stands up to introduce himself as Lardy. He's a fat cell that's been inside you for years.
Lardy says there are two periods of your life where you grow a lot of fat cells. The first is in infancy, and the second is at puberty. This freaks the girls out because they're at one of those ages.
The model actor from the show is in this commercial and says, "it's a sad fact of life that none of you will ever have a 9 inch waist, but now you can try, using my waist away diet kit!"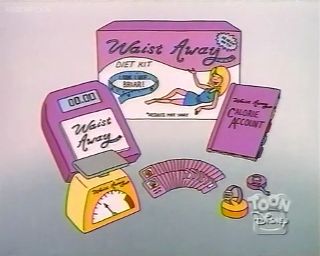 The voice-over man says, "remember: your friends will never tell you when you're fat." This is evil shit. Patti steps in front of the screen because finally someone has to criticize this nonsense.
She says they're just trying to make you think you're fat because they're selling that dumb product. Beebe disagrees. She warns Patti that if she's not careful, she'll look in the mirror and see Fatty instead of Patti. This sort of already contradicts the last thing the commercial said. Patti isn't even fat and her friend is already telling her to worry about it. Anyway, fuck that commercial for all the ways it is wrong.
At lunch the next day, Doug, Skeeter, Connie and Roger are discussing the episode of that awful tv show. Roger says his favorite part was when Briar dumped the school constitution, and declared herself head cheerleader and beneficent dictator. He says, "now that's a woman!"
Skeeter has a bullshit newspaper called "Weekly Weird World" and they've got an article about how bigfoot sends Briar fan mail every week. Doug says something about how it makes sense that a monster would fall for a girl like Briar, if indeed the monster was going to fall for a girl at all. This gives Skeeter an idea for finally catching the Lucky Duck Monster. He wants to get a female monster to draw him out. Doug is immediately enthusiastic about this idea, and quickly asks where they are going to get a female monster. Neither of them considers the idea that the Lucky Duck Monster might be female. What if it's an asexual monster? Let's say that there really is a Lucky Duck Monster, and it is definitely male, and Doug and Skeeter somehow get a female monster to draw it out of the lake...then what? Are they going to try to interfere with the horrifying monster sex? Seems like a bad plan.
Meanwhile, Patti is picking out her lunch when Guy makes her feel bad about her choice. She grabs a salad and he calls it rabbit food. "Puttin' on a few LBs, huh?"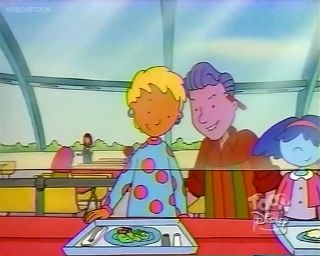 He immediately assumes she's on a diet and again proves that awful fucking commercial wrong by ignoring everything she says so he can say, "I'm with you all the way, Patti. Trim down, firm up, BREAK IT!" Then he admires himself in the reflection on the sneeze guard. Patti has the opposite experience.
Meanwhile, Doug and Skeeter are planning for their female monster. Initially, they have a nonsense sort of Weird Science plan to use the Lucky Duck Monster's DNA, but Doug suggests they might be meddling in things they shouldn't. So they settle on making a female monster out of junk.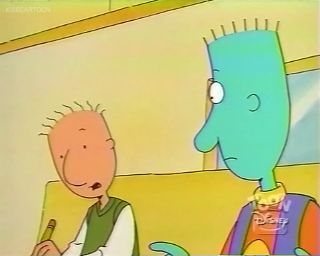 Patti walks by and Doug says hello. She asks him if he thinks she needs to lose some weight.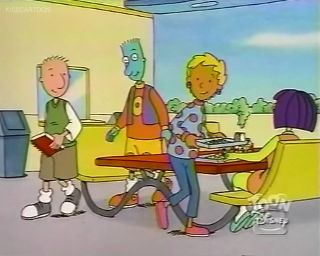 Sarcastically, he says, "oh yeah. You're huge." He chuckles and Skeeter chuckles and Patti misses the sarcasm entirely because sometimes the human brain is just a fucking dick and it always does this type of shit to us. Doug, with as much experience as he has with his own brain taking innocent comments and turning them into obsessions, should really know better.
Now Patti is trying out for the school's track team. Coach Spitz says he wants a team that is lean and mean.
Patti dwells on the lean and mean remark until she hears an echo of what Beebe said earlier about seeing Fatty in the mirror. She misses the beginning of the race and starts off way behind.
Then she transforms into a much heavier version of herself.
In the audience, Doug says something to Connie about Patti getting chunky. Connie says something to Roger about how huge she is and shouts, "YOU CAN DO IT, FATTY! I MEAN PATTI!" Doug tells Skeeter that, as her friends, they can never tell her she's a huge blubbery sack of fat. Briar asks Doug if he's seen anything so fat in his life. He says it's both sad and horrifying.
Briar shouts, "YOU CAN RUN BUT YOU'LL NEVER LOOK LIKE ME!"
So Patti just ran through her own fantasy. After it is over, she finishes the real race and the coach tells her she just barely qualified for the next round.
She approaches Connie and Beebe and says she's going on a diet. Connie wants to lose weight too, so she's also going on a diet. Also, Beebe too.
"I'm not gonna let this fat lick me. As ya'll are my witness, I'll never be heavy again!"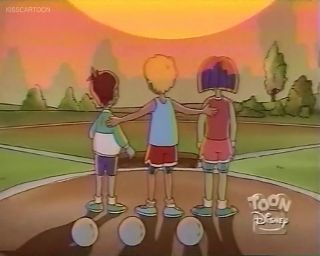 Apparently, they're getting together for lunch now to show off their fat free lunches. Patti bought the Waist Away diet kit.
Beebe is surprised she bought the kit. Patti says the actor is lame, but she
is
in good shape. Using the scale, she says, "this sandwich is a tad weighty, and she tosses half of the ingredients.
Mr. Bluff bought Beebe a calorie analyzing computer.
She puts her lunch in the machine, it vibrates and beeps while a robotic voice tells her that her lunch accounts for 10% of her daily calorie allotment. It finishes by complimenting her.
In the library, Doug and Skeeter are having trouble finding examples of female monsters.
Doug suggests they take any monster and just make it look female. He imagines this.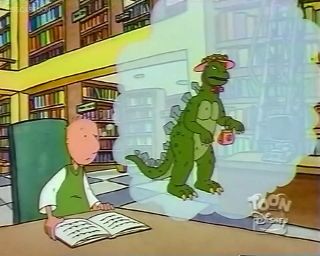 Skeeter imagines this.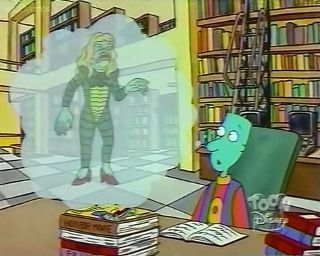 And I wonder why they are doing this research at all. They've already agreed to just build a female monster out of junk. I don't know if you've ever made something out of junk before, but generally, what you can make out of junk depends largely on the type of junk available to you
Meanwhile, Patti is tracking her running with her watch. She's happy to have run for 30 minutes because it means she burned 250 calories.
Beebe is still trusting the bizarre machine, which claims her hair is gorgeous.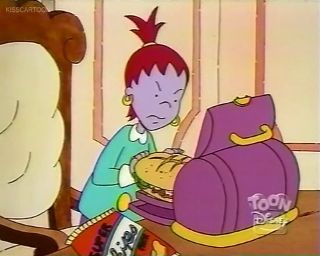 Patti is using this Waist Away calorie tracker that is unnecessarily large. The company selling Waist Away probably made it this large so they could charge more for it.
Patti continues exercising more and eating less. At lunch, she's carrying a tray with an egg and a carrot right past Guy.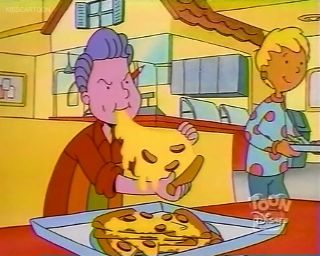 He gives her a thumbs up, completely oblivious to his part in her increasingly dangerous behavior. Now she's convinced the diet is the best thing she's ever done.
She has a fantasy where she's at a huge track event sponsored by Waist Away. She is easily winning the 400 calorie dash.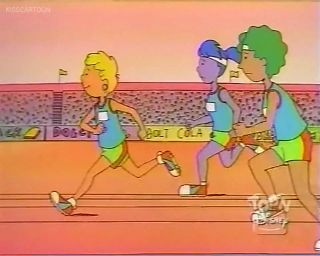 I will remind you that this is her fantasy about how Waist Away is the best thing she's ever done. I feel that is important to remember, because Lardy lets two huge blobs of fat out of a cage and they start chasing the runners.
The fat blobs catch two people stretching on the sidelines and make them fat. Patti wins the race. Briar presents her with a gold plated sandwich, "a happy reminder of when you used to eat."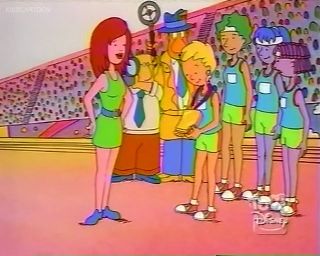 You'd think this sort of nightmare would help Patti realize the bullshit trap she's fallen into, but that's just not how bullshit psychological traps work.
Doug, Skeeter and Porkchop are working on the monster when Patti jogs by.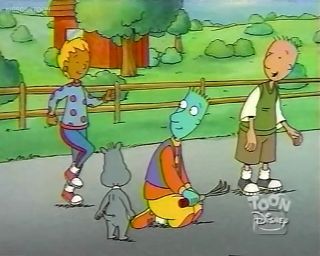 She jogs in place to chat with them and they ask her what she thinks of their monster.
"Wow, that's one scary pile of junk!"
"It's our monster."
"Oh, well, I gotta go! Today's our weigh-in. I think I lost three pounds."
At this point, Doug says, "that's great," but he's completely disinterested. She started talking about her stuff and he just tuned her out.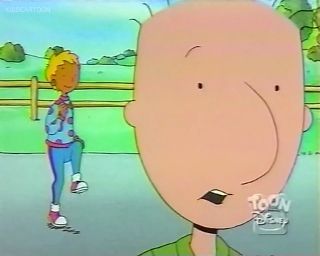 As she's running away, Doug says, "she is way too wide, man." He's talking about the monster, but Patti hears the comment and thinks it is about her.
At the weigh-in, Connie goes first. According to the scale, she lost one pound. Unfortunately, the scale is a piece of shit and shows her weight fluctuating between losing and gaining one pound. Beebe shoves her off the scale, saying one pound hardly seems worth the effort.
Beebe steps onto the scale and is shocked by her seven pound difference. Connie and Patti are impressed until Beebe says she didn't lose seven pounds; she gained seven pounds.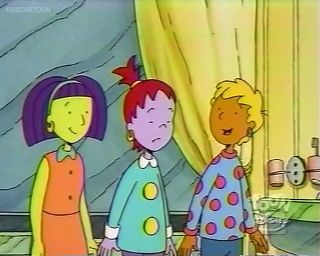 Turns out she wasn't using the analyzer correctly. The settings identify her as a 6'2" male with a target weight of 250lbs. Beebe rings a bell to call her butler and demands that he make the analyzer work.
Patti finally steps on the scales and finds that she met her goal to lose three pounds. Satisfied she's meeting her goal, she gets back to running.
She wakes up early the next day to go for a run while the sun comes up.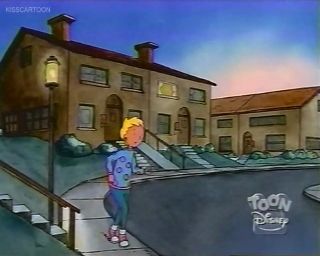 After school, Patti is part of a Big Buddy program and they're playing beetball.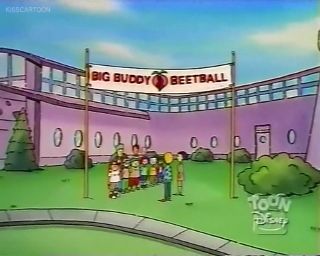 Before they get started, Patti chastises Chalky for forgetting his buddy badge. He apologizes, but she still says, "it's a little thing, but our buddies appreciate it."
Chalky asks, "where's your buddy?"
She looks around, sputtering out noises and he asks, "you forgot your buddy!?"
She makes excuses for her newfound shitty behavior and Connie points out that this isn't like her. She snaps back, "oh come on, Connie. Don't tell me you're jealous 'cuz I lost more weight than you!"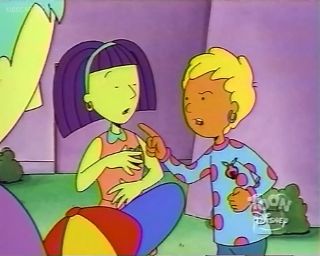 Without her little buddy, I guess Patti just fucks off to get back to running because in the next scene she's checking up on Doug and Skeeter. They've finished their monster and Doug wants her to tell him, if she was a male monster, wouldn't she want to date this?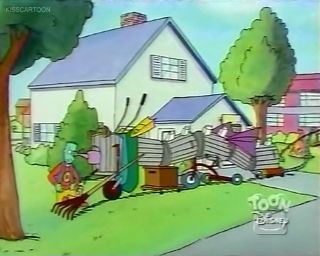 She's running in place and can't really think of an answer past "um." Doug suggests she's overdoing the running thing and she says she still has 300 calories to burn. As she's running away, he tries to tell her that she looks kind of tired.
Skeeter can't let Doug get sidetracked into worrying about Patti though. She's only the girl he's been in love with since the day he first saw her. They have more important shit to do. Their monster is complete and it's time to take it down to the lake. Unfortunately, they didn't really secure it in any real way, so when they pick it up it falls apart immediately.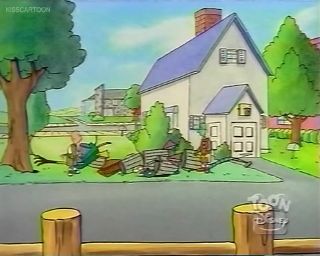 Roger rides his bike up to them and asks if they're entering a stupid pile of junk contest.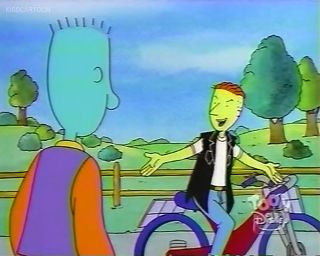 Doug explains their plan and Roger criticizes their creation because it looks like they made it out of stuff from the garage. They say they made it out of stuff from the garage. This whole stupid interaction gives Roger another shitty idea.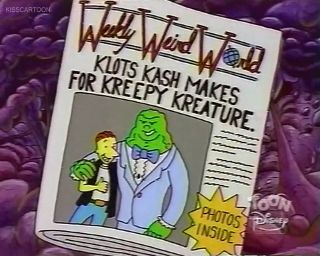 Roger's ideas for making money don't make sense. His idea this time is that he'll spend the money to make a better monster for them, and then what? Apparently he'll dress the monster in a light blue suit for their front page photo. The newspaper will spell his name wrong. Quite a visionary, that Roger.
At lunch the next day, Doug asks to sit with Patti. She's making notes about her exercise and takes a short spray from a can labeled "Spraywich."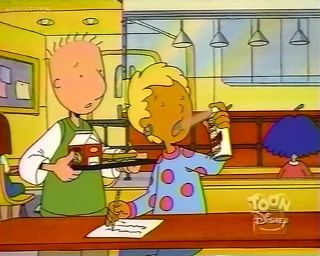 That was apparently her entire lunch and it was 5 calories. She says she's stuffed. I wish this episode was funny. It tries to be. They try to lighten things up with the female monster, but every scene with Patti makes every other scene irritating. One of their friends clearly needs help and Skeeter just can't lose focus on something that is obviously bullshit. Fucking grow up, Skeeter. You're supposed to be a genius. After you give up on the Lucky Duck Monster, are you going to try to catch Santa Claus? What other fictional being would you like to see Skeeter waste time trying to capture while his friends deal with real problems? Doug's finally come around but, like most of us, he's ill equipped to help her. He asks her if eating a spray for lunch is such a good idea. She takes this the wrong way entirely, and thanks him for the suggestion to skip lunch entirely. Fuck.
Back in the Fuck Skeeter plotline, Skeeter gives a construction worker the design for the monster.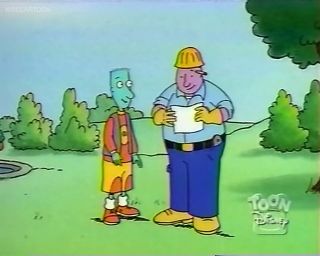 Doug asks him if he can skip monster work today. Doug wants to go to the track to find Patti. Skeeter is okay with that, but still unconcerned for Patti. It's all female monster for Fucking Skeeter.
Roger is disappointed with the design for the monster. He imagines a few designs, the first of which is actually a classic female monster that Doug and Skeeter overlooked because they are apparently dumber than Roger.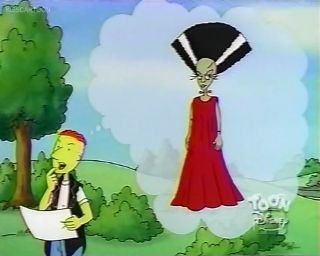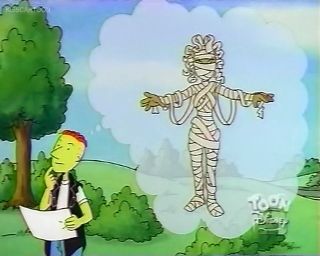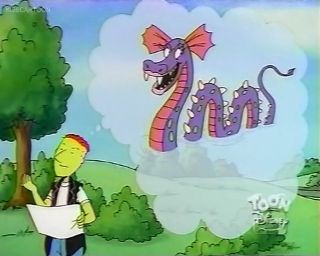 None of these are right though. Roger sees a copy of the Weekly Weird World and gets an idea.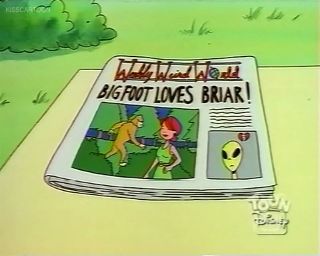 It is literally the same idea Doug and Skeeter had. He wants to make an attractive female monster. How was this lost when he hired himself for their project?
At the track, Doug tries to relay his concerns for Patti's diet to the coach.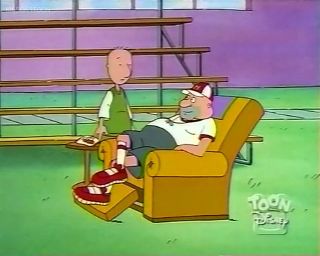 The lazy, overweight man cuts him off, saying all athletes diet. Doug just doesn't understand because he's not an athlete. Doug suggests that she is getting carried away. Coach says they'd win more trophies if more athletes got carried away. He's so struck with what he just said, he decides "get carried away" should be their new team motto.
Patti immediately confronts Doug for the way he just went behind her back to the coach. He tries to defend his actions, but she shouts over him.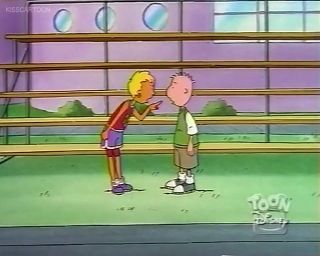 Also, she's having difficulty focusing.
She says Doug made her so mad she got dizzy.
Back in the Fuck This Storyline, Roger has Willie taking promotional photos before they take the monster out to the lake for the unveiling. It doesn't make any sense and I hate this and I want it to stop.
Skeeter takes offense to the sign advertising it as "Monsters by Roger." Who cares though? Fuck you, Skeeter.
Back at the track, Coach Spitz says the team will be the top five students from each grade. He's already made a shirt with the new motto.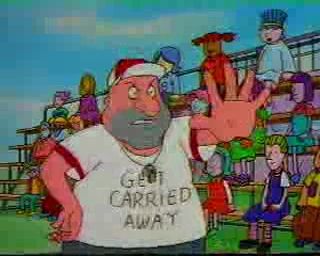 There's a table with bottles of water set up for the athletes. Beebe is there, I guess replacing the water. Patti almost picks one up, but then says, "no, thanks. I'd only retain it." Beebe admires her discipline. Fuck Beebe. Patti walks into Doug. She apologizes and tells him she has to warm up. She can't focus.
Coach Spitz announces Patti as the next contestant for the long jump. She readies herself and looks at her goal, which turns into a swirling mess that disappears underground.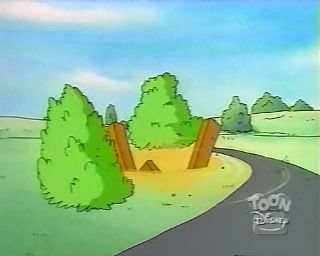 She shakes her head and does her long jump. She lands on her feet and immediately collapses backwards.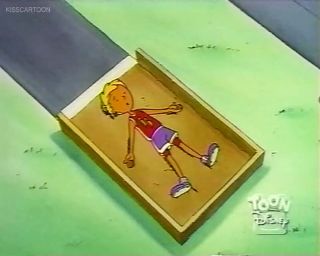 Again, in the WHO FUCKING CARES STOP GOING BACK TO THIS PLOT IT DOESN'T FUCKING MATTER part of this episode, Roger is trying to assert his claim to the monster. He accidentally releases the trailer carrying the monster and it starts rolling down the hill.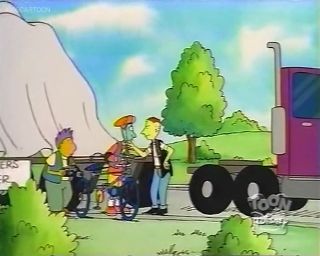 Patti reenters consciousness to find Coach Spitz is more inept than you thought. He tells her she's in the next race. She says she doesn't feel so good. He tells her to get carried away. Fuck Coach Spitz. He should be fucking fired.
Ms. Kristal angrily says, "CARRY YOURSELF AWAY, COACH!" She adds, "this girl isn't running anymore today."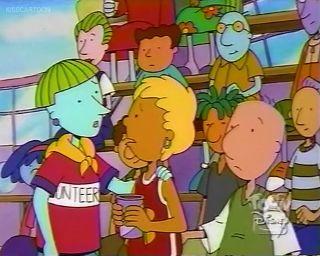 Ms. Kristal asks Patti if she's eaten anything at all today. Patti says she hasn't because she thought she'd be able to run faster that way. Ms. Kristal explains that your body needs protein, so when you don't eat, your body starts eating itself and you lose strength rather than gaining it. Doug says that's scary. Coach Spitz says he feels terrible. Avoiding the subject altogether, Patti asks Doug, "aren't you supposed to go to the park with Skeeter?" Doug says it's okay and he won't miss anything if he's a little late.
Actually, what he's missing is a runaway monster.
Mr. Dink sees it and says, "I'm strangely repulsed, and yet I'm attracted."
Some foreign scientists somewhere say,...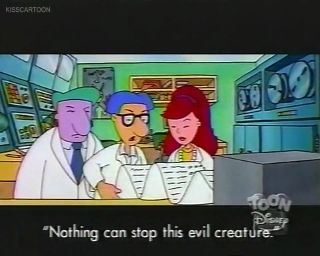 Doug apologizes for all the times he ignored Patti when she wanted to talk. He was too focused on making the monster with Skeeter. She says it's okay because she knows what it's like to get carried away. He asks if she wants to help them take the monster to the lake.
She says, "sure, Doug. I've never seen a real, live, fake..."
"MONSTER!"
The monster rolls past the track field. Skeeter and Roger run up and ask which way it went.
The monster rolls onto a major highway, has its head removed by a sign, rolls into the median and falls off the trailer. It lands in the road and smashes to pieces. A crowd of photographers run up and take pictures.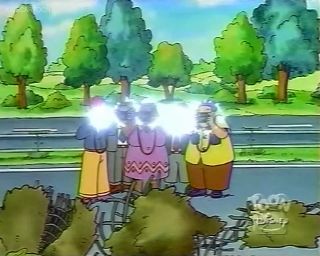 Doug, Skeeter, Patti and Roger step in front of the photographers. Skeeter says they'll never catch the Lucky Duck Monster now. Roger laments the loss of his monster franchise career. Why can't they just build another one? Fuck you, the episode is almost over. That's why.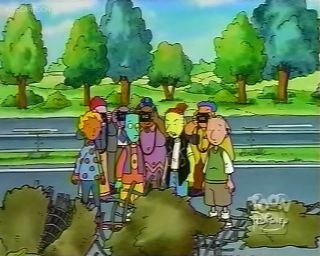 At Mr. Swirly, Doug suggests they split a small pizza.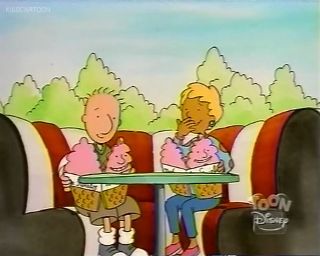 Patti declines the offer, saying she's going to order one for herself.
Wrapping up his journal entry, Doug says Skeeter may not have caught the monster, but he won the scary junk contest.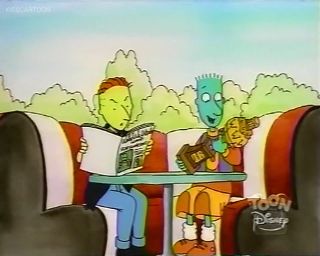 Apparently Roger wasn't making a stupid joke earlier. Bluffington has a Stupid Scary Pile of Junk Contest and Skeeter won. Roger and Skeeter start arguing over the trophy.
Patti has a final voice-over for this episode, offering real help.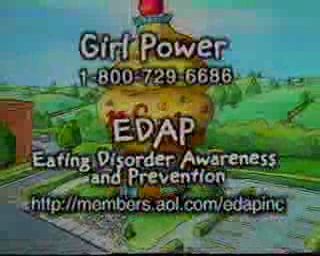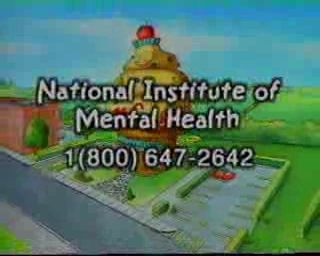 In Doug's "well, Journal" wrap-up, he says, "I guess sometimes you can't believe everything you see, even when it's yourself." This is woefully inadequate given the whole experience. He should be pissed at the media for their sexist attitude. He should curse the name of the show that belittles women that do not fit a narrow definition of physical beauty, especially when they follow that show with a commercial where they say you will probably never fit that narrow definition, but you should damn well try anyway because your friends are all talking about you behind your back. Surely they put all of that shit in this episode to criticize media for doing this all the time, but then Doug doesn't really explicitly learn from it. "You can't believe everything you see, even when it's yourself" is something Doug has so far failed to learn in every episode of this show. There's no reason to believe the lesson stuck this time either.