This episode begins with a baseball game. Patti's Pulverizers is still a team, and they're winning this game. Doug fields a line drive to first, and pulls off a double play with Skeeter. Doug starts narrating his journal, talking about how he gets this tingly feeling all over when baseball season starts: "Mostly 'cause I'm sweating so much."
After he says this line, his mom starts celebrating the double play by jumping up and down and yelling, "score! Touchdown! YAAAAAAY!"
So Doug adds, "but also because I'm usually kind of embarrassed, with my parents there and all." It's sort of weird the way he started out saying he feels tingly all over around baseball season, implying he's just excited as shit about being a Pulverizer, and then he goes on to reveal that it's just a result of sweaty shame.
Patti strikes out the next batter and the Pulverizers win. Doug immediately runs over to his dad screaming about how they won and asking if he'd seen his double play. Phil completely ignores him and continues talking to the other adults.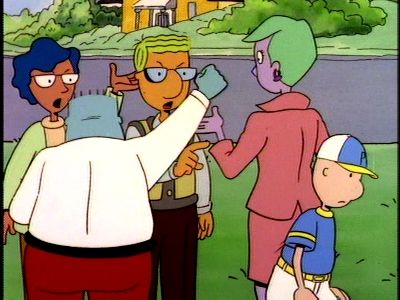 They are upset that Patti does all the pitching. Mr. Valentine screams about how Skeeter is a born pitcher. Mrs. Bluff says, "they're only kids. They can't be expected to run their own team." Doug's "but we won" protest goes unheard and he slinks away.
Later the parents are having a meeting at the Funnie house.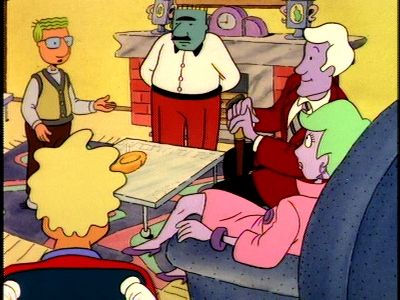 Discussing how they should manage the team, Mr. Valentine demands that Skeeter be allowed to pitch. Mrs. Bluff says that Beebe's therapist says she'll suffer acute emotional damage if she is not allowed to pitch. Doug and Skeeter start watching from the window. Mr. Mayonnaise says, "Personally I think if the kids want to run their own team, we should let them. As long as they're enjoying it. After all, it's only a game." Mr. Valentine does not like this, and everyone starts arguing. Theda comes in and says the only way to resolve the pointless "who should pitch?" question is to make all the kids take turns pitching. Doug and Skeeter do not like this idea, and Doug imagines what will happen when he pitches.
In this fantasy, he throws a pitch and it flies way over everyone's heads. The umpire yells, "ball four!" Since the bases are loaded, another runner is walked home. Patti says, "poor Doug, another walk." Then she turns to Skeeter and asks, "what's the score!?"
"A bajillion to nothing."
They laughed when I made the "A BAJILLION" sign for the scoreboard at the park, but who's laughing now!?
After the fantasy, Doug and Skeeter are talking about how they are playing the Honkers next week, and without Patti's pitching they won't stand a chance. Doug asks, "what do we do?" As if he's got an answer for this question, Porkchop springs up and grabs his golf clubs.
He calmly walks back over to them, puts down a golf ball and hits it out into the road. So that's Porkchop's solution.
Later Phil is trying to teach Doug a secret pitch called the Funnie Fireball. Doug does poorly and throws the ball way over Phil's head, into the Dinks' bushes where it hits Mr. Dink in the head.
There's a pointless conversation with Mr. Dink, and then Doug finally tries to explain that everyone thinks he's a really good first baseman. Phil pulls out his wallet and shows Doug a photo.
"Ya see this? That's me! THE NUMBER 2 PITCHER! This was the year I invented the Funnie Fireball! I know you'll make a good pitcher! It's in the blood. Like father like son."
Number 2 pitcher on the runner up team. And now he is a photographer for a department store. The only thing in the Funnie blood that Doug inherited is delusions of grandeur.
Phil's speech causes Doug to have another fantasy. In this one, Phil is sitting inside reading "Pitching Tips for Boys" by Teak McGulliken when Doug walks in and says, "hi, dad. Guess what! I'm a major league first baseman."
Without enthusiasm, Phil replies, "that's wonderful, Doug."
"And I won the World Series!"
"...fantastic."
"And I just signed a zillion dollar a year contract!"
"great."
"But that's nothing! You know what's really great?"
"What's that, son?"
"I won the Nobel Prize!"
"FOR PITCHING!?!?"
"NO, DAD! For peace!"
"Oh."
Hilarious. And probably the most reasonable fantasy he's ever had. His dad is completely ignoring what he really wants, and has an irrational fixation on pitching. Suddenly the only thing he cares about is that Doug pitches. Who cares what Doug wants or what is best for the team? Is Doug pitching? No? Then Phil better teach him a bullshit secret pitch and be an annoying dick about the whole thing.
After the fantasy, Doug, Patti and Skeeter are talking about how they were unable to convince their dads that they didn't want to pitch. Patti's convinced they can steal beat the Honkers in spite of all this unnecessary bullshit.
"HEY! We can still beat the Honkers. I mean, Skeeter's got an ok arm, and your arm's...not bad. You'll tough it out."
"I will?"
"Sure! You never know until you try!"
"Hey. Maybe I
can
pitch."
Another fantasy. This time they're in a big stadium. Doug is pitching.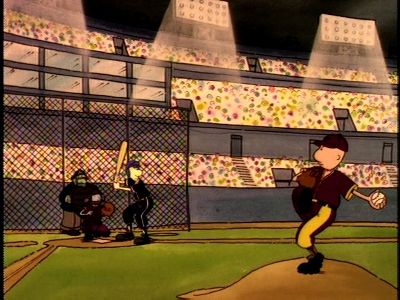 You're probably thinking that he's going to be an amazing pitcher because his crush, Patti "Sweetpussy" Mayonnaise, just encouraged the idea, but no. He throws the ball over the fence behind the umpire. Doug walks in the winning run. I never get tired of his fantasies that are supposed to be good, but then turn out terrible. It just shows a total lack of self confidence when you can't imagine you'll do good, even when that's specifically what you're trying to imagine.
At the game, Connie starts off on the pitcher's mound. She does terribly. Every batter has to dodge the ball, and presumably she walks several runners in before Skeeter takes the mound.
Mr. Valentine gives Skeeter shitty advice. He tells him not to throw it too hard. Just throw strikes. So Skeeter lobs the ball over the plate every time, and the Honkers get several home-runs off him. Before Skeeter is finished, the Honkers are leading the game 11-4.
So now it's Doug's turn. And Roger is at bat. Feeling all the pressure, Doug starts to sweat and calls time out. His team comes to the mound and they discuss things that are obvious to everyone but the idiotic adults. Doug hands the ball over to Patti, which causes a hallucination.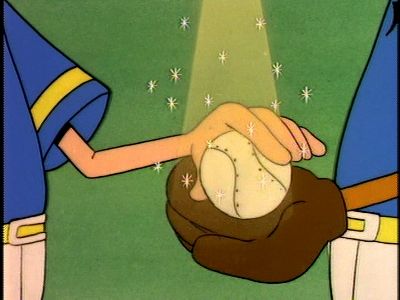 Yep! Heaven's shining down on that decision, Doug!
Patti quickly strikes out three people in a row. After the kids took control of the team again, they started a comeback. They end up winning the game.
Take that, adults!
This might be the most sane Doug has ever been, which might mean it's all bullshit. It's hard to take him at his word when he says he was the one that finally decided to ignore the parents' bullshit so Patti could pitch and that it resulted in them finally beating the Honkers. His self confidence is so low at this point he can't even imagine things work out for him, but somehow he finally makes the decision no one else could? Right.
Assuming this story is even partially true, then it's easy to understand Doug's psychosis a little more. The basic idea, that a bunch of kids were having fun until a bunch of adults decided to be assholes about everything, is enough to drive anyone insane. And it's believable. Have you ever heard adults argue about little league sports in small towns? Fucking hilarious, unless you're the kids they're arguing about and it's hard for you to just ignore them and have fun being kids. If these are the type of adults Doug is dealing with, then I'd be surprised if he didn't have emotional issues.
But Patti's dad is just amazing, isn't he? Always has the right attitude. So cool.